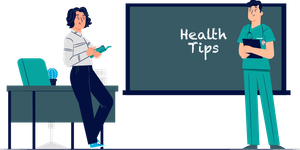 Mental Health Tips
2021 Holiday Safety Tips
11/23/2021
We're almost at the end of yet another year, which means another holiday season filled with festivities, food, and time with family and friends. That doesn't mean we should let our guards down when it comes to keeping our families safe, happy, and healthy. Let's make this holiday season safe by keeping in mind a few holiday safety tips.
Bundle up and stay warm
Remember to stay warm this holiday season, especially if you live in the northern states. Wet and cold weather may lower the ability of your immune system to fight off infections. Plus, it's just plain uncomfortable to be cold and wet. You can stay warm by wearing layers of clothing, including scarves, gloves, and waterproof boots.
Take care of annual check-ups
Most, if not all, insurance plans generally cover an annual check-up visit with your doctor as a form of preventative care. If you haven't yet, it's a good idea to take advantage of this health insurance perk and see your doctor. That way, your doctor can get a better idea of your health and make any recommendations to ensure you stay healthy throughout the next year.
Stay up-to-date with vaccinations
The flu virus thrives in cold weather; flu season lies between fall and winter. For that reason, it's recommended to get the flu shot early to allow your body to develop adequate antibodies to fight disease before the peak of the flu season. Certain people may also be eligible for the COVID-19 booster shot, especially those older than 65 or those with health conditions.
While we are all excited to spend the holidays with our loved ones, it is important only to attend gatherings if you feel healthy. If you are feeling under the weather, it is best to stay home and avoid social gatherings to avoid spreading germs to friends or family members.
Maintain a healthy diet and exercise plan
Staying active and eating a healthy diet filled with plenty of fruits and vegetables can help keep you healthy this holiday season. You should try and exercise at least 30 minutes most days of the week. Although it is tough this time of year, you may also want to watch your fat, salt, and sugar intake to decrease the risk of certain diseases. Research shows that avoiding nutritional deficiencies may help protect the immune system.
Keep stress under control
Stress levels can become high during the holiday season due to planning family get-togethers, buying gifts, or other factors. High-stress levels may affect both your physical and mental health during the holidays. Keep stress under control by doing the activities you enjoy, such as reading, meditating, and getting enough sun with outdoor activities.
Wash your hands
Keep germs, like bacteria and viruses, at bay by washing your hands regularly. Germs can get on your hands when you touch different objects like doorknobs and other contaminated surfaces, even more so when stores, malls and restaurants are extra busy during the holiday season. Washing your hands for a minimum of 20 seconds can help prevent diarrhea-related illnesses and respiratory infections like the cold and flu.
Don't forget to stay stocked on your medications
If you know you'll be traveling this holiday season, make sure you have enough medication on hand for the duration of your trip. Pharmacies, hospitals, and clinics may be especially busy during the holiday months. Staying on top of your medication refills can ensure your health and help protect against complications from any underlying medical conditions you may have.
Inside Rx can help you save on medications
If you're looking to save on your medication refills, you might find discounts for your prescriptions using Inside Rx. Search your medication and compare prices using the Inside Rx search tool. Whether you're uninsured or underinsured, instantly download your unique savings card and show the card at your local pharmacy to see if you can save! Those with insurance may also find that they save more using Inside Rx than with their insurance.
Inside Rx is accepted at over 60,000 pharmacies across the United States and Puerto Rico. See if you can save up to 80% on off-brand and generic medications this holiday season using Inside Rx.
Wishing you all a safe and happy holiday season!
To learn more about Inside Rx, visit the Help page.