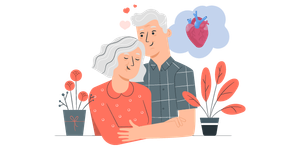 Heart Disease
Common Heart Conditions for Both Men and Women
02/02/2021
Heart conditions, and more specifically, heart disease, can affect both men and women alike. Yet, heart disease is often considered to be a "man's disease". In reality, heart disease is one of the leading causes of death in both men and women with more than 2,200 Americans dying from it each day.
Heart disease encompasses several problems, including coronary artery disease (CAD). It is also associated with other common heart conditions, such as heart failure and atrial fibrillation. While heart conditions remain a common health problem in the U.S., there are some differences in how men and women experience them.
Coronary artery disease
Coronary artery disease, sometimes called ischemic heart disease or coronary heart disease, is the primary cause of heart attacks in both men and women. Coronary artery disease develops when excess fats in the blood merge into stubborn plaques that sit on the artery walls of the heart. These plaques can start to clog the pathway of blood flow, and, in many cases, break off into blood clots that travel and interrupt blood flow elsewhere. This stoppage of blood flow is what leads to a heart attack or stroke.
Men and women differ in the average timing of heart attacks. On average, men experience their first heart attack at around age 65 while women experience their first heart attack around age 72. Although women are able to defer their chances of a heart attack to a later time, they're often hit harder once they do experience a heart attack. Within five years of a heart attack, almost 50% of women will develop complications or lose their life versus 36% of men.
Men and women share the same risk factors for heart disease, including:
High blood pressure
High cholesterol levels
High blood sugar levels
Excess body weight
Tobacco use
For women, a heart attack is not so obvious since they may be feeling different symptoms than the typical chest pain often seen in men experiencing a heart attack. In addition to feeling chest discomfort, a woman might feel more subtle symptoms such as increased sweating, nausea and shortness of breath. They might feel dizzy or easily fatigued several weeks before they even experience a heart attack.
Heart failure
Heart failure is a common heart condition for both men and women. In fact, heart failure affects both men and women equally. However, different factors can influence the development of heart failure in men and women.
After menopause, women are at an increased risk of experiencing high blood pressure and high cholesterol. This is because there is less estrogen, which normally has a positive effect on the artery walls to keep them flexible. These factors can weaken the heart and lead to heart failure. Women might be more likely than men to have frequent hospital visits or reduced physical activity due to heart failure.
Atrial fibrillation
Atrial fibrillation (AF) is an arrhythmia, or an irregular heart rhythm that can lead to stroke and other complications. AF is one of the most common heart conditions in both men and women, although the prevalence of AF is lower in women than in men. Compared to men, women have a higher chance of surviving longer with AF after receiving treatment.
Staying on top of your heart health can avoid common heart conditions Whether you're a man or a woman, it's important to maintain your heart health. You can lower your risk of common heart conditions by incorporating healthy daily habits into your routine. These habits can involve:
Quitting smoking.
Eating a heart-healthy, balanced diet that is nutrient-rich and high in fiber while limiting your intake of saturated fats and processed foods.
Following a regular exercise routine of at least 30 minutes of aerobic exercise most days of the week.
Being aware of your cholesterol levels, blood pressure and blood sugar levels.
Consulting with your healthcare provider and tracking your health regularly.
Taking any needed medications for other health conditions, like high blood pressure or diabetes.
If you've been diagnosed with a common heart condition, you may be prescribed a medication to help reduce the risk of heart attack or stroke. In some cases, you might already be taking a blood pressure medication or a diabetes medication. Either way, it's important to keep track of your medications to help reduce the risk of complications.
Inside Rx makes it easy for you to find the medications you need at an affordable price. You can easily search your medications and find the lowest prices for your prescriptions, including the ones you might take to control or lower your risk of heart conditions, such as Lisinopril, Captopril digoxin, and more. You can even enter your zip code to find the lowest prices at pharmacies near you. See if you can save up to 80% on brand and generic medications at over 60,000 pharmacies across the U.S. and Puerto Rico. Instantly download your unique savings card right from the Inside Rx website. Then you can print it, email or text it to yourself, or download our mobile app to store it right in your pocket. When you get to the pharmacy, show your Inside Rx card to the pharmacist to see if you can save. It's that simple!
To learn more about Inside Rx or card restrictions, visit our FAQ page.