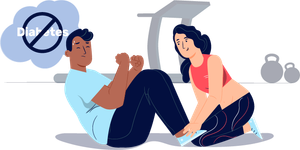 Living with Diabetes
Guide to Healthy Holiday Eating for Diabetics
11/12/2021
If you have diabetes, you might be asking yourself how you can go about healthy holiday eating without throwing off your blood sugar levels. Fortunately, having diabetes doesn't mean you have to skip every single food you enjoy. There are several ways you can ensure you're taking care of your diabetes this holiday season.
Be choosy with your carbs
Many foods during the holiday season are often packed with carbohydrates. These foods include mashed potatoes, sweet potatoes, pie, stuffing, and others. It can be tempting to try everything laid out on the dinner table. But if you have diabetes, you'll want to stick with your carb counting. Try to pick your favorite carbs or ones that you don't usually eat throughout the year. You might choose to skip the stuffing in favor of a slice of pie, for example.
Pace yourself with portions
Portioning out your meals is one of the best ways to manage your blood sugar levels. It's also one of the easiest. You can use the plate method to ensure you're getting the right amount of portions for your carbs, proteins, and vegetables. It involves splitting your plate into sections: one quarter with lean proteins, one quarter with carbs, and one half with non-starchy vegetables.
Remember to stay active
You'll want to stay active this time of year with all the food you might be getting yourself into this year. Maintain your regular exercise routine to ensure you're keeping those blood sugar levels in check. It is recommended to get at least 150 minutes of moderate-intensity exercise each week; you could divide this into 30 minutes of exercise five days of the week. Go for a walk, dance, or enjoy a bike ride with family or friends after a meal.
Watch your alcohol intake
In general, there shouldn't be a problem with drinking in moderation if you have diabetes. Still, you should watch your alcohol intake, especially during this time of year. Alcohol can cause changes in your blood sugar levels, such as hypoglycemia. If your diabetes is under control with medications or insulin, you can enjoy a glass of wine or a beer. Just try not to go overboard since some types of alcohol contain extra sugar. Limiting your alcohol intake to two drinks per day if you're a man or one drink per day if you're a woman is recommended.
Plan ahead of time
It's always a good idea to plan ahead of time for healthy holiday eating with diabetes. You might choose to bring a snack or two if you know the food won't be served for a while upon arriving at a party. If you know the foods will be carb-heavy, you might decide to bring your own low-carb dish to share with your friends and family. Keep in mind that it's also best to stay on track with your normal mealtime. That means eating your meal as close to your regular mealtime as possible by eating a small snack or eating less depending on when food is served.
Healthy holiday eating with diabetes doesn't have to be difficult
Just make sure you're eating smart this holiday season, especially if you have diabetes. You'll also want to maintain your other routines, such as exercising and taking any medications, like insulin, as needed.
Remember, you may be able to save on your diabetes medications by using a prescription discount card like Inside Rx. Inside Rx can help you save on your antidiabetic medications and insulin, so you don't have to worry about not being able to afford your diabetes treatment. Instantly download your free Inside Rx savings card and see if you can save up to 80% on brand and generic medications at over 60,000 pharmacies nationwide.
To learn more about Inside Rx, visit our Help page.