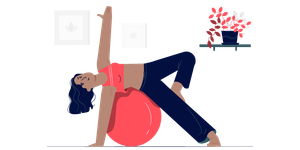 Health Tips for Women
Healthy Habits to Boost Women's Health
05/29/2020
It's Women's Health Month – That means it's time to take a look at what women can do to live their best and healthiest lives
Check out our top five recommended healthy habits to add to your lifestyle:
1. Take a Daily Multivitamin
A daily multivitamin is a good idea for anyone, but especially for women as they age. Look for options high in antioxidants, B vitamins, vitamin D and vitamin K. These specific vitamins may help lower the risk of some health problems, boost the immune system and even help slow aging.
Antioxidants like vitamins A, C, E and Biotin can help to keep your immune system strong and promote healthy hair and nail growth. Vitamin B will assist in keeping your brain active and help your body change food into energy (aka boost your metabolism). Vitamins D and K will help improve your calcium levels and keep your bones strong.
Moral of the story? One pill a day may be able to provide long-lasting health benefits!
2. Stay Hydrated
Boost energy, improve skin health and even curb your appetite by drinking plenty of water! There are tons of proven reasons why staying hydrated is key to living a healthy life, for anyone. That being said, many overlook hydration as a valuable dieting tool. Drinking water can help keep your appetite in check, so next time you want to reach for a snack – try a glass of water instead and see how you feel.
Hydration also has positive effects on mood and mental health. Drinking a glass of cold water can leave you feeling refreshed and help your body to rid itself of natural toxins.
3. Get Up and Move
Keep your joints, muscles and bones moving. Exercise has so many benefits, from weight management to valuable mental health assets. Moving just thirty minutes a day can improve heart health and reduce your risk of cardiovascular disease and diabetes. Heart disease is the leading cause of death for women in the U.S. If you could take thirty minutes a day to lower your risk, wouldn't you?
Additionally, getting up and moving can help to enhance your mood, reduce stress and give you a boost of much needed energy!
4. Take Time for Reflection and Relaxation
Whether you choose to meditate, journal, pray, take a nap or read a book – taking time for reflection and relaxation is an important part of women's health. As women age, the stresses of life can take their toll. From careers and child-rearing to relationships and environmental stressors, women's mental and physical health are at risk from extended stress. By taking time to yourself, you can reduce cortisol levels and help control anxiety and depression. Plus, reducing cortisol levels can help to reduce your waistline… just an added bonus!
5. Schedule Regular Checkups
Sometimes life gets in the way of keeping up with routine health maintenance, but that shouldn't be an excuse. Regular checkups can help to identify potential health risks early on. Blood tests give us an idea if we are at risk for diabetes, high cholesterol and many other possible disease indicators. With early detection, most health risks can be treated with simple medication or lifestyle changes before it gets too far.
Work full-time and don't know when to go? Try scheduling on your lunch hour or see if there are any early morning appointments available. Life is busy, but it's never too busy to forego your health!
Sometimes, lifestyle changes just aren't enough and that's ok! When you need some extra help, Inside Rx has you covered. From drug assistance for anxiety and depression to high cholesterol and diabetes to reproductive health and menopause, Inside Rx can help you get the medications you need at discounts you'll love.
Simply go to InsideRx.com to download your personal savings card and see if you can save up to 80% on brand name and generic medications at over 60,000 retail pharmacies nationwide. Inside Rx is not insurance, but it can help lower the cost of life-saving and preventative prescription medications for those who are uninsured or under-insured.
See for yourself today!