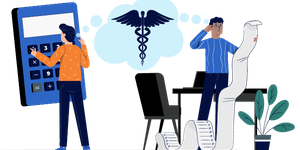 Prescription Savings
GoodRx vs WellRx: Which Pharmacy Discount Card Is Better?
01/13/2023
In addition to Inside Rx, two popular prescription discount cards are GoodRx and WellRx. While both companies do have similar offerings, there are some differences. Below, we've compared GoodRx vs WellRx for you to better help you decide which card is better for you.
Prescription medications are essential for many people, especially those who experience pain and other symptoms due to their medical conditions. In many cases, despite their necessity, these prescription medications are expensive, and to uninsured individuals, often unaffordable.
However, unlike luxuries, you can't skip your prescription medication, as doing so can put your health at risk. Fortunately, there are some ways you can save money on prescription medication, such as by using a pharmacy discount card.
GoodRx and WellRx are two of the most popular medication discount cards. Both claim to give card users significant savings when they have their prescriptions filled at participating pharmacies. But which one is best for you and your needs?
To help you make an informed choice, we've detailed the similarities and differences between the two cards.
GoodRx vs WellRx: A Closer Look
If you're uninsured, underinsured or on a high-deductible insurance plan, you likely have to allocate a large portion of your monthly budget to prescription medication. The average American spends approximately $1,000 a year on Rx drugs, and older adults as well as people with chronic conditions are likely to pay even more.
Both WellRx and GoodRx discount cards are meant to close the gap between uninsured consumers and high-quality, affordable prescription medication. They negotiate lower prescription drug prices with manufacturers and pass the savings on to medication discount card users.
While their purpose is the same, there are some differences in terms of medication coverage, features, number of participating pharmacies and other features. Here is a quick overview of GoodRx vs WellRx.
| | WellRx | GoodRx |
| --- | --- | --- |
| Medication Coverage | Most prescriptions | Most prescriptions |
| Cost to Use | Free | Free |
| Age, Insurance or Income Restrictions | None, but purchases with the card do not count toward the deductible of insurance plans | None, but purchases with the card do not count toward the deductible of insurance plans |
| Size of Pharmacy Network | 65,000+ in the U.S. and its territories | 70,000+ in the U.S. and its territories |
| Registration Required | No | No |
| Card Format | Digital (website and app); may be printed | Digital (website and app) |
| Savings Potential | Up to 80 percent on name-brand and generic | Average of 81 percent off retail prices |
| Free Mobile App | Yes | Yes |
GoodRx vs WellRx: Extra Features
GoodRx aims to be not just a pharmacy discount card but also a telehealth platform. To that end, it also offers affordable telehealth services, laboratory tests and consultations.
Additionally, users of the GoodRx medication discount card have the option to sign up for GoodRx Gold. This is a paid subscription that gives users up to 90 percent savings off the retail price of prescription medication.
Meanwhile, WellRx provides medication coupon card users with access to valuable nutrition information through its Grocery Guidance resource page. It provides recommendations on food items as well as personal care and health products. WellRx also offers adherence tools, medication information as well as pill and refill reminders via its website and mobile app.
GoodRx vs WellRx: Searching for Medication and Comparing Prices
With WellRx, you can search for discounts on your medication by clicking on the "Price Drugs" button on its website or using the same app feature. Input your medication and your address and zip code. You'll be taken to a page that shows the pharmacies that carry the medication you searched for, with the one offering the lowest price at the top of the list.
Nearly the same process applies for GoodRx. However, you can set your location, so you don't have to keep inputting it every time you search for medication.
GoodRx vs WellRx: Participating Pharmacies
If you live in a large city with many pharmacies, the size of the card's pharmacy network likely won't matter much. However, the same doesn't hold true if you live in a small town or rural area. So, when deciding which prescription discount card to choose, it's important to factor in the number of pharmacies you can use it at.
As mentioned previously, WellRx works with more than 65,000 pharmacies nationwide as well as in Puerto Rico and the U.S. Virgin Islands. These include both independent or community pharmacies as well as established brands like:
Walgreens
Walmart
CVS Pharmacy
Hannaford Food and Drug
Meanwhile, GoodRx has partnered with over 70,000 pharmacies. You can use the GoodRx discount card at community pharmacies as well as big chain pharmacies such as:
CVS Pharmacy
Costco
Rite Aid
Target
Walgreens
Inside Rx: An Alternative to WellRx and GoodRx
Inside Rx, like WellRx and GoodRx, is a pharmacy discount card. The Inside Rx brand is a subsidiary of Express Scripts, a pharmacy benefit management (PBM) company that has been in business for more than 30 years.
You can use it to get savings on thousands of brand and generic prescription medications for a wide range of conditions, such as diabetes, ulcers and asthma. In addition, it is the only medication discount card program that offers its users exclusive discounts on more than 300 featured medications.
Inside Rx works directly with some pharmaceutical manufacturers instead of going through a PBM. This allows the company to pass the savings directly onto the user without requiring any membership fees or other costs. With Inside Rx, you may be able to get the following:
Up to 80 percent off on brand and generic prescription medications.
Up to 50 percent savings on diabetes medication.
Other benefits include:
One Card for the Whole Family
You can use just one Inside Rx discount card to save on medication prescribed to you and members of your family. This includes furry, scaled and feathered loved ones. If your pet was prescribed a generic human medication by their veterinarian, you can use your Inside Rx card to potentially save up to 75 percent off its retail price.
Wide Pharmacy Network
More than 60,000 pharmacies in the United States and Puerto Rico honor the Inside Rx medication discount card. These include all major chains as well as local pharmacies.
Potential Discounts on Vaccines
You may use the Inside Rx pharmacy discount card to get savings on many vaccines. Some examples are vaccines against:
Shingles
Tetanus, Diphtheria and Pertussis
Hepatitis
Reusable
There is no cap or limit to how much you can save or how often you can use your Inside Rx discount card. To get it, you may download it from the website or have it sent to you via text or email. Simply present it to the pharmacist whenever you pick up your prescription.
Free App
The Inside Rx mobile app can be downloaded from Google Play and the App store. This highly-rated app is free to use. With it, you can pull up medication pricing information from partner pharmacies. It can also serve as your digital prescription discount card.
Start Saving on Prescription Medication
While both cards offer potential savings on prescription drugs, it doesn't have to be just GoodRx vs WellRx. Simple and easy to use, Inside Rx is an excellent option for those who want to save more on their prescription medication without signing up for paid memberships and for those who want a reliable discount card without unnecessary features.
To learn more, visit the Inside Rx help page.
Sources: