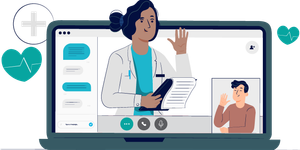 Health Tips for Men
Online Doctor Visits: What to Know
09/16/2020
In a year defined by COVID-19, staying healthy is more important than ever. But how can you keep on top of your health without the risk of visiting your doctor's office? During these unprecedented times, utilizing online doctor visits can provide a safer alternative to traditional office visits.
Whether you're looking to follow up on a previous appointment, need medication management, a health screening or behavior health services – all of these options can be done through telehealth.
As a result of the pandemic, Medicare and Medicaid have expanded virtual services and many private insurance companies are expanding coverage for online doctor visits and remote services.
Where to Start
If you already have a primary care doctor, call the office and see if they offer online doctor visits. If they do, schedule an appointment with the receptionist and ask for instructions on how to access the appointment. Looking for a new primary doctor or a specialty doctor? Try searching your insurance website or Medicare/Medicaid to find a doctor to suit your needs. You may see a symbol indicating online services are available next to the provider's name, if not feel free to call their office to inquire.
What's Next?
Once you've made your appointment you'll need to make sure you have a secure high-speed internet connection, video access via phone, tablet or computer as well as the ability to download the application used by your provider such as Zoom, Skype or GoToMeeting. If you don't have access to this technology, it's possible your provider may be willing to connect with you over the phone (make sure to confirm).
You will need to fill out your doctor's standard paperwork electronically and likely submit via email. Set yourself up in a quiet area and be sure to prepare for this appointment like you would any other. Bring questions, have test results accessible if applicable and keep a pen and paper next to you to take notes. Just because you are physically apart, you'll find that the connection between you and your provider can still be just as strong.
What If My Doctor Prescribes Medication?
If your doctor prescribes you medication from your online doctor visit, he or she will likely have your prescription sent to whatever pharmacy you typically use. Most pharmacies offer a drive thru pharmacy option where you can remain safe in your car. You can take advantage of a prescription savings card, such as Inside Rx, to see if you can save money on your prescription medications at the pharmacy. Simply search your medication using the pricing tool, and see the savings at pharmacies local to you. Then, download your free savings card and present it at the pharmacy.
More About Inside Rx
By partnering with pharmacies, we negotiate the best rate to save up to 80% on brand and generic medications at over 60,000 pharmacies in the U.S. and Puerto Rico. Inside Rx is not insurance, but it can help lower the cost of life-saving and preventative prescription medications for those who are uninsured or under-insured.