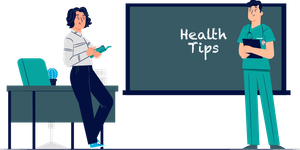 Mental Health Tips
Depression and Anxiety During the Holidays: You're Not Alone
12/07/2020
The holiday season is around the corner, and that often means a time for family and friends. While this time of year is one of joy and happiness for many people, it's not uncommon for some people to feel depressed or anxious during the holidays. In fact, it's quite normal.
According to the National Alliance on Mental Illness (NAMI), 64% of people with a mental health condition report feeling worse during the holidays. From this total percentage, 24% reported feeling a lot worse while 40% reported feeling somewhat worse. Still, this percentage may be higher when considering other people may have undiagnosed depression or anxiety.
If you experience depression and anxiety during this time, there is hope! Below you'll find likely causes of your depression or anxiety and things to do to help alleviate these feelings, including using Inside Rx.
Causes of Depression and Anxiety During the Holidays
Otherwise known as the holiday blues, depression and anxiety can have a number of causes. Around this time of year, and this year in particular, stress and loneliness can creep in, especially for those who are prone to depression and anxiety. Some triggers of depression and anxiety during the holidays could include:
Stress from planning
With the holidays being a high season for travel, it can be stressful to make plans. Plus, this could also mean stress caused by financial obligations, like buying gifts, food or other items to contribute during the holidays. You might feel overwhelmed, like there's too much to do or you might feel like you're not able to afford gifts for your loved ones.
Loneliness
Many people experience loneliness during the holidays. It can often be a time to reminisce about old times with those who have passed away or are no longer around. Many people may be going through interpersonal strains with their family, friends or significant others. Breakups or divorces can especially be draining during this time of year.
Seasonal affective disorder (SAD)
Seasonal affective disorder (SAD) is a diagnosed condition, also known as seasonal mood disorder. This disorder falls under depression and is dictated by the changing of seasons. Oftentimes, weather changes and a decrease in sunlight during the winter months can trigger symptoms of depression. A lack of vitamin D or serotonin may be responsible for these symptoms during this time.
How to Manage Depression and Anxiety During the Holidays
If you experience the holiday blues, it can be difficult. However, you can rest assured knowing there are several ways to cope with and manage depression and anxiety during the holidays.
Limit alcohol use
While alcohol can feel like a good idea to ease the holiday jitters, try not to overdo it. Excessive alcohol consumption could end up worsening depression and anxiety in the long term. That's because it serves as a mask for symptoms and does not treat the root cause of symptoms.
Eat a healthy diet
Eating a balanced, healthy diet can seem like an obstacle during the holidays. However, following a healthy diet can be one of your best tools to manage depression and anxiety. For example, a Mediterranean diet with vegetables, fruits, and whole grains has been associated with better mental wellbeing.
Make time for self care
While it's easy to focus on others during the holidays, it's important not to forget about self care. If you're feeling lonely, do things that help you feel better, such as engaging in a favorite hobby, reading a book or taking a walk in nature. You can also make time to meditate and accept where you are. After all, the holiday season is temporary.
Refill any needed medications
If you have been diagnosed with depression and anxiety, you may be prescribed medications to help cope with your conditions. The holiday season may be a crucial time to make sure you're stocked up with the medications you need. Inside Rx is a prescription savings card that may be able to save users up to 80% off brand and generic medications. Inside Rx offers discounts on a variety of depression and anxiety medications such as escitalopram or fluoxetine. You can use the search tool to search your medication and compare prices at pharmacies near you. Then, simply download the card and show it to the pharmacist when you get to the pharmacy.
You're Not Alone
If you feel depression and anxiety during the holidays, just know you're not alone. If you feel that you or someone you know is considering suicide, seek help from the National Suicide Prevention Lifeline at 800-273-8255. These days, help is easily accessible whenever you need it. You can also follow the tips above to help you maintain a positive mindset to ensure the happiest of holidays.