Living with Diabetes
Commonly Prescribed Types of Diabetes Medications
07/18/2023
Treatment is an important part of managing diabetes. There are a number of medications available to treat diabetes and it might be hard to determine which one is best for you. We've broken down commonly prescribed types of diabetes medications and what they do to help you find the best medication for you.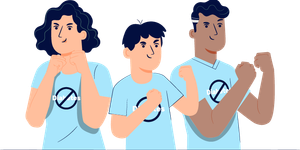 For many people living with diabetes, medication may be an important part of treatment. According to one review, around 70% of adults 20 years or older with diabetes take an oral medication alone or with insulin. These medications may work in different ways to help promote one of the main goals of diabetes treatment—control blood sugar or glucose levels.
There are several different types of diabetes medications available, and they're often used along with a diet and exercise plan. The most appropriate diabetes medication will depend on a person's overall condition, other medications they may be taking, and other health problems they may have.
Continue reading to learn more about the most commonly prescribed types of diabetes medications.
Types of Diabetes Medications Often Prescribed
Treating diabetes may require one or more medications to maintain optimal blood sugar levels. Let's explore some of the various types of diabetes medications that may be prescribed.
Biguanides
Biguanides are a class of medications that help reduce blood sugar levels by decreasing the amount of glucose produced by the liver. Metformin is often considered as the first-line treatment for people with type 2 diabetes due to its effectiveness and safety profile. Some examples of biguanides include:
Metformin (Glucophage®, Glumetza®, Fortamet®, Riomet®)
Sulfonylureas
Sulfonylureas stimulate the release of insulin from pancreatic beta cells, which helps to lower blood sugar levels. They have been used for many years and are considered an effective treatment option for type 2 diabetes. Some sulfonylureas medications are:
Glipizide (Glucotrol®, Glucotrol XL®)
Glimepiride (Amaryl®)
Glyburide (Diabeta®, Glynase®)
Meglitinides
Meglitinides are another class of diabetes drugs that stimulate insulin release from the pancreas. They have a faster onset and shorter duration of action than sulfonylureas, making them useful for maintaining post-meal blood sugar levels. Examples of meglitinides include:
Repaglinide (Prandin®)
Nateglinide (Starlix®)
Thiazolidinediones
Thiazolidinediones work by improving insulin sensitivity in the body's cells, enabling them to use glucose more effectively. These medications can be used alone or in combination with other diabetes medications. Thiazolidinediones examples are:
Pioglitazone (Actos®)
Rosiglitazone (Avandia®)
DPP-4 Inhibitors
Dipeptidyl peptidase-4 (DPP-4) inhibitors are a class of diabetes medications that work by blocking the enzyme DPP-4, resulting in an increase in insulin production and a decrease in glucagon levels. Some DPP-4 inhibitors are:
Saxagliptin (Onglyza®)
Sitagliptin (Januvia®)
Linagliptin (Tradjenta®)
GLP-1 Receptor Agonists
Glucagon-like peptide-1 (GLP-1) receptor agonists are injectable medications that mimic the action of GLP-1, a hormone that stimulates insulin secretion and slows gastric emptying. This class of medications may also promote weight loss. Examples of GLP-1 receptor agonists include:
Dulaglutide (Trulicity®)
Exenatide (Byetta®)
Liraglutide (Victoza®)
Alpha-Glucosidase Inhibitors
Alpha-glucosidase inhibitors slow down the digestion and absorption of carbohydrates in the intestine, helping to regulate post-meal blood sugar levels. Some examples of alpha-glucosidase inhibitors are:
Acarbose (Precose®)
Miglitol (Glyset®)
SGLT2 Inhibitors
Sodium-glucose co-transporter 2 (SGLT2) inhibitors work by blocking the reabsorption of glucose in the kidneys, leading to its excretion in the urine. This class of medications has been shown to improve cardiovascular outcomes in some people. SGLT2 inhibitors include:
Canagliflozin (Invokana®)
Dapagliflozin (Farxiga®)
Empagliflozin (Jardiance®)
Insulin
Insulin is a hormone that regulates blood glucose levels. It may be used as a treatment for both type 1 and type 2 diabetes. Insulin is available in many forms, such as long-acting, rapid-acting, and premixed formulations, to accommodate individual needs and preferences.
Inside Rx Is Here to Help
Diabetes medications can often be expensive, particularly for those without insurance coverage. As a result, many individuals with diabetes may be looking for ways to save on their prescriptions. Fortunately, there are options available for those seeking to save the most on their medication costs.
One such option is the Inside Rx prescription discount card. This program, offered in partnership with Express Scripts, may help people with diabetes save on branded insulin and other diabetes medications at nearly 60,000 participating pharmacies across the U.S. and Puerto Rico. With Inside Rx, you may be able to help reduce some of the financial stress that can come with diabetes treatment.