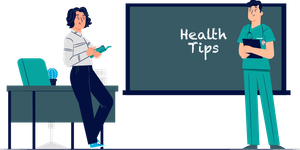 Pediatric Health
Get Ready for Back to School
09/03/2021
It's back-to-school season, and it can be a hectic time for both children and parents alike. Several things may be on your mind regarding what your child needs to get ready to go back to school. Depending on your child's school's policies, it's best to prepare your child in line with the school's requirements, especially during this new era of COVID. However, there are some general health and safety preparations you can take care of to make sure your child is ready for school.
While many things need to be taken care of during this time, that doesn't mean it has to be too difficult or stressful to get ready for school. Here are some health tips to help kickstart the school year.
Ensure your child is up-to-date with vaccinations and physicals
All states in the U.S. have some form of vaccine mandate for children who are attending school. However, the types of vaccines required can vary by state. Make sure you find out which vaccinations are required by your child's school well in advance as vaccinations can also vary by the age of the child. Vaccines are not only important for boosting the immunity of your child, but they also help protect those around them. You should also make an appointment for your child's yearly physical check up for further guidance on your child's overall health.
Make sure your child is following the right sanitization measures
Preventing the spread of germs is always important for children to avoid obtaining or spreading illness at school or daycare. Sanitization measures, such as masks and the regular use of hand sanitizer, may be recommended at your child's school. Have enough masks and hand sanitizer ready for your child so they can be prepared. Talk to your child about the right way to use masks and hand sanitizer, as well as social distancing tips.
Discuss breakfast and lunch meals with your child
Diet and exercise are important for helping to maintain your child's health. Some kids can be picky when it comes to different meals, so it's best to talk with your child about food options that are both nutritious and enjoyable for them. You can also pack healthy snacks for your child to make sure they're energized throughout the day.
Ease your child into a regular sleep routine
A regular sleep schedule is critical for your child's mental and physical growth, as well as optimal performance at school. Try to start getting your child in the habit of sleeping earlier a week or two before school starts. That way they can get used to waking up in time to get ready for back to school. Most school-age children need 9 to 11 hours of sleep every night. Teach your child some best sleep hygiene practices like winding down at least 30 minutes before bedtime, avoiding large meals or junk food before bedtime, and turning off electronics at an appropriate time.
Be prepared for potential allergies or asthma attacks
Let your child's school administration know about any allergies or conditions that your child has. You can keep your child prepared with any necessary medications they need. Gently remind your child how and when to administer their medication, and run them through how to deal with any emergencies, such as asthma attacks or severe allergic reactions. If you know certain triggers, like specific foods, that cause a reaction in your child, make sure to tell the school and ensure your child understands what to avoid so they can stay safe.
It's important that your child has an appropriate supply of necessary medications for school. If you're looking for ways to save on your child's medicines in preparation for back to school, you can use a prescription discount card, like the Inside Rx card. Inside Rx helps uninsured and underinsured families across the country save on prescription medications. See if you can save up to 80% off generic and brand name medications using the free Inside Rx discount card. You can search for your child's medicine using the built in search tool and compare prices at your nearest pharmacy. Then, download your unique savings card instantly and show it at the pharmacy to see if you can save!
Let Inside Rx help you get your family ready for back to school and have a great school year!