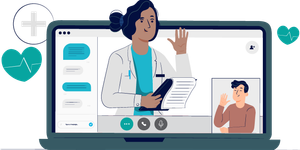 Mental Health
How to Use Anxiety Medication Discount Cards
01/18/2023
Anxiety is something most people experience during their lifetime. Some people suffer from more severe anxiety, referred to as an anxiety disorder. Anxiety disorders can be debilitating and often require treatment to manage. To learn more about anxiety treatment, read on.
Chronic anxiety can significantly affect quality of life. A person with this condition experiences physical, mental and emotional stresses that may cause panic attacks, irritability, extreme fatigue, headaches, breathing problems and other issues. Medication is often prescribed to alleviate anxiety symptoms and help individuals restore function in their daily lives.
Unfortunately, brand-name anxiety medication is more expensive than many patients can afford. While cheaper, generic options are available, long-term use can easily cause the costs to stack up. According to a study published at the National Library of Medicine, the average cost of treating anxiety is $6,475, which is a significant number.
Thankfully, prescription savings programs exist to help save money on medication. These organizations provide discount cards, allowing patients to purchase anxiety medication and lower costs. Read on to learn how discount cards can help get you an anxiety medication discount.
Inside Rx is Here to Help
Inside Rx is one of the nation's leading medication savings program. We offer a free prescription discount card that can help save money on thousands of medications for many medical conditions, including anxiety. With Inside Rx, you may be able to save up to 80% on brand and generic medications.
Inside Rx partners with over 60,000 pharmacies in the United States and Puerto Rico. Cardholders can present their cards at their local drugstore to possibly get an anxiety medication discount. Our partners are some of the biggest names in the pharmaceutical industry, which include:
Walmart
Undoubtedly, Walmart is one of the largest retailers in America and is also a long-term partner of Inside Rx. If you have our discount card, you can present it to any of their locations to get healthy savings on your anxiety prescription. Alprazolam and lorazepam are some generic anxiety medications available for discounts at any Walmart branch.
Rite Aid Pharmacy
Rite Aid has thousands of locations all over the country which accept Inside Rx discount cards. So if you are near one, you may get an anxiety medication discount the next time you fill your prescriptions. Escitalopram is a popular generic that may be available for markdowns.
Safeway Pharmacy
Safeway is a popular retail pharmacy with over 900 locations nationwide. The company is engaged in a long-term partnership with Inside Rx, which means our cardholders may get discounts at their sites. Buspirone, fluoxetine, alprazolam and lorazepam are just some generic names you may get at discounted prices.
H-E-B Pharmacy
Present your Inside Rx card at any location of H-E-B Pharmacy, and you may get significant discounts on benzodiazepines, a group of drugs used to alleviate anxiety symptoms. Alprazolam, chlordiazepoxide and lorazepam are generic benzodiazepines available at any H-E-B Pharmacy location.
CVS
CVS has a wide variety of anxiety medications that may be available for discounts using the Inside Rx card. So whether you are looking for benzodiazepines like alprazolam and chlordiazepoxide, or tricyclics like clomipramine and imipramine, you can visit the nearest CVS locations and possibly get an anxiety medication discount through Inside Rx.
Other participating pharmacies include Meijer, HyVee, Giant Eagle, Stop & Shop, Winn Dixie and many more. Find your local drugstore at our list of participating pharmacies.
Can't find the pharmacy near you on our list? You can go to our home page and run a search on your medication plus enter your zip code to find the pharmacies that accept Inside Rx discount cards nearest you.
FAQs on Anxiety Medication Discount Cards
There's no shortage of prescription savings programs. But how do you choose the best one out of all the many options?
The two things to consider when selecting a savings program are 1.) the convenience of getting the card and 2.) the pharmacies it is accepted in. With Inside Rx, you can get a discount card within seconds that's accepted by thousands of pharmacies nationwide. So, getting an Inside Rx discount card is an easy way to get savings on your prescriptions.
Here, we answer the most common questions people tend to ask us about our discount cards:
How To Get an Inside Rx Discount Card?
Get an Inside Rx discount card by clicking here. You will be directed to a page on our website that automatically generates a unique card that you can print or download. There's no need for registration or sign-ups. You can immediately enjoy possible discounts on generic and brand-name anxiety medications!
Am I Eligible?
Inside Rx has discount restrictions regarding the cardholder's age and current insurance coverage. Therefore, we highly encourage anyone interested in getting our card to read through our guidelines to avoid misunderstanding.
Is It Free?
Yes, Inside Rx discount cards are completely free. Plus, there are no sign-ups or renewals necessary since the card is yours for a lifetime.
How Does It Work?
Pharmacies are businesses, and offering discounts on expensive medication can attract customers and encourage them to keep coming back. This is why they work with prescription savings programs, like Inside Rx, to negotiate drug prices and market these discounts to drive traffic to the pharmacy. As compensation for the increased exposure, the company receives a small cut every time their card is used. The end consumer benefits the most since they save money on prescriptions that help control their anxiety symptoms.
How Much Will I Save?
It's possible to get up to 80 percent off select anxiety medications through Inside Rx. However, every pharmacy offers different prices for their prescription drugs, so we recommend comparing prices before going to a drugstore. You also don't worry about going to every pharmacy in your area because you can easily compare prices using the Inside Rx website or mobile app, which is also free to download.
Just type in the name of your medication, and it instantly pulls up the list of drugstores where it is available and displays the discounted price. Enter your zip code and it will show pharmacies nearest you! This way, you can easily compare prices and choose the pharmacy that offers the best savings.
Get an Inside Rx Discount Card Today
Inside Rx discount cards cover thousands of generic and brand-name medications nearly everywhere. Over the years, our cards have been used by millions of patients. So, get healthy savings for you and your entire family, including your pets!
If you have any questions, you are always welcome to email us at questions@insiderx.com. Get an Inside Rx discount card today!
Sources: