Asthma and Allergies
Top Tips to Conquer Allergy Season
06/08/2020
While the weather warms up and those spring flowers start to bloom, one thing may start looming on your mind: allergies.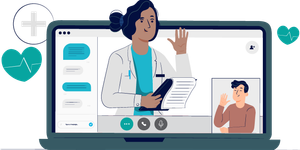 If you experience pesky allergy symptoms such as sneezing, runny nose and itchy, watery eyes, just know you're not alone. Approximately 20 million adults experience allergic rhinitis, or hay fever, in a single year.
As allergy season starts to head into full swing, you'll want to make sure you're fully prepared. For that, we've got you covered with the top tips to help you conquer those allergies.
Get an allergy test
One of the best things you can do to fight allergies is to first find out what you're allergic to. You could be allergic to a host of different things such as mold, dust mites, pollen or pet dander among other allergens.
When you make an appointment with an allergy specialist or allergist, they will likely perform a skin test. This test involves small skin pricks with tiny amounts of specific allergens to see what your body reacts to. Once you know exactly what you're allergic to, you'll be in a better position to help yourself.
Give your house a deep clean
Whether you experience seasonal allergies or perennial (year-round) allergies, it's important to give your house a deep clean. Cleaning your house can help get rid of any allergens that are lingering in the air and on the ground. If you have pets, they can often track in allergens on their fur.
Vacuuming often and cleaning furniture is an essential way to prepare for allergy season. Springtime is a prime time for moisture so it's recommended to get rid of mold which often collects in bathrooms or basements.
Make your way to the drug store
Taking an over-the-counter (OTC) allergy medication is one of the most effective ways to get through allergy season. Antihistamine medications work by blocking histamine, the chemical responsible for allergy symptoms. Intranasal steroids come in a nasal spray which can help relieve congestion and runny nose. With severe allergies, your doctor might prescribe you an allergy medicine to help alleviate your symptoms.
It's best to get these medications ahead of time so you can take them at the first sign of symptoms. You can use a search tool, like the one offered by Inside Rx, to find discounts on prescription allergy drugs at your nearest pharmacies. Inside Rx partners with over 60,000 major retail pharmacies in the U.S. and Puerto Rico to ensure the best discounts on medications.
Take your outdoor activities inside
If you normally exercise outside, it may be a good idea to work out inside, especially if your allergies are starting up. You should also limit outdoor activities on days that are particularly windy or dry. Pollen tends to be more abundant in warm weather.
If you are going outside, don't be afraid to wear a mask or sunglasses. An N95 mask can help filter out particles like pollen and dust to help prevent allergy symptoms. Sunglasses can not only help protect your eyes from the sun, but they can also protect your eyes from pollen in the air.
Be wary of the windows
Keep your house an allergen-free zone by closing windows and doors on days with high pollen counts. You can check Pollen.com, a nationally recognized allergen forecast tool to check pollen counts on a daily basis. That way, you can plan your day right and avoid triggering symptoms during allergy season.
You can also use an air filter to help clean the air of any allergen particles. High-efficiency particulate air (HEPA) filters are ideal for trapping these particles and removing them from the air. Avoid ionic air filters that can ionize particles, pollen and dust particles and cause them to stick to home surfaces.
Don't wait — Be prepared for Allergy Season!
Whether it's doing some extra cleaning or stocking up on antihistamines, try to take care of these essentials before allergy season kicks into gear. There's no need to suffer during allergy season when you can follow the easy tips we've outlined for you.
If you're looking to purchase prescription allergy medications, it doesn't have to cost a fortune either. You can use an Inside Rx discount card to lower drug costs and save more money. At Inside Rx, we believe in making the medications you need more affordable and more accessible.