Mental Health Tips
What is Mental Health?
11/02/2023
Mental health is a popular and very important topic of discussion these days. You may be wondering, what is mental health? To help answer this question and give you a better understanding, we developed the article below.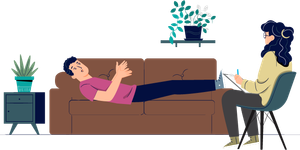 You likely have heard of mental health and other common mental health conditions but may be wondering, what really is mental health? Mental health is a key aspect of our overall health that can affect how we think, feel, and act. It can also help determine how we cope with stress and build meaningful relationships. Poor mental health can affect several aspects of daily life, such as work or school performance, social interactions and even physical health. For example, chronic stress can weaken the immune system and increase the risk of developing chronic conditions like heart disease.
With the right treatment strategies and help from a professional, individuals can improve their mental health. Increasing awareness about mental health and self-care tips for mental health is one of the first steps in tackling mental health problems that affect society as a whole. Read on to answer the question of "what is mental health" and ways to maintain or improve it.
Defining: What Is Mental Health?
When we discuss mental health, we are talking about our emotional, psychological and social well-being. Mental health is vital at every stage of life, from childhood and adolescence to adulthood. With a well-balanced mental state, people can cope with the stress of daily life, contribute to their communities and maintain healthy relationships. Mental health can sometimes be confused with mental illness or mental disorder s. However, mental health refers to our overall psychological well-being, while mental illness refers to a condition that affects our cognitive, emotional or behavioral functioning. Some common signs of mental illness include:
Persistent sadness or irritability
Extreme mood swings
Withdrawal from social activities
Changes in eating or sleeping habits
Difficulty in coping with daily problems or stress
According to the National Alliance on Mental Health, nearly one in five adults in the United States live with a mental illness. It may be helpful to recognize mental health concerns to prevent complications and support loved ones who may be struggling.
Factors That Affect Mental Health
Various factors can affect mental health. Some key factors that may influence the risk of developing mental health problems include:
Childhood Experiences: Experiences such as trauma, abuse, or witnessing violence during childhood can increase the risk of mental illness later in life.
Ongoing medical conditions: Chronic medical conditions like diabetes or cancer may lead to additional physical and emotional stress, which can affect mental health.
Genetic predisposition: Individuals with a family history of mental health problems may be at a higher risk of developing mental illnesses.
Lifestyle factors: Work, diet, substance use and sleep can all influence mental well-being.
Social support: Interactions with friends, family and peers can play a role in maintaining good mental health.
With these factors in mind, it may be easier to identify early warning signs of mental health disorders and take proactive steps to prevent problems .
Ways To Protect And Improve Mental Health
There are several ways to protect and improve mental health. Incorporating these practices into daily life may help improve overall mental health. However, everyone may experience different mental health problems that can vary in severity, and what works well for one person may not be effective for another. Some of these self-care strategies may include :
Practicing mindfulness and being present in each moment
Regularly exercising
Developing healthy coping skills
Maintaining strong social connections and support networks
Regulating emotions and managing stress
Focusing on self-acceptance
Seeking professional help when necessary
If you or a loved one experiences symptoms of a mental health disorder that persist or worsen, seek help from a mental healthcare provider. A professional can make an appropriate diagnosis and recommend treatment options, such as talk therapy or medications.
Inside Rx Is Here To Help
Managing mental health may often involve talk therapy in combination with medications to treat symptoms. Anxiety or depression, for instance, are sometimes treated with selective serotonin reuptake inhibitors (SSRIs). Medications can be a key part of treatment, but the cost of these prescriptions can sometimes hinder people from seeking relief. Fortunately, you can take advantage of the Inside Rx savings card to help reduce the financial burden of your prescriptions. With Inside Rx, you may be able to save up to 80% on brand and generic prescription medications. The card is accepted at nearly 60,000 participating pharmacies nationwide, and it can be downloaded, printed or used with the mobile app for on-the-go use. This savings option may be helpful for individuals and their entire families, allowing them to get much-needed medications without worrying about high costs. We hope this article helped your understanding of mental health and provided some helpful resources if you (or a loved one) are struggling.