Vaccines
Inside Rx Now Offers Vaccination Discounts
09/01/2022
We are happy to announce that we are now offering vaccination discounts using the Inside Rx savings card. If you are uninsured or a cash-paying customer, you can use your savings card to save on certain vaccines.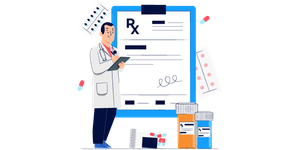 Inside Rx has been saving consumers up to 80% off brand and generic prescription medications for years. And now, we are proud to announce that we are offering the same Inside Rx discounts you know and love, for vaccinations! You can now use the same Inside Rx prescription savings card at the pharmacy for vaccination discounts on different vaccines.
How does it work?
Saving on vaccinations is simple, and if you've used Inside Rx to save on medications, you are already familiar with our process. Follow these easy steps below:
1. Search for the vaccination you need
Search your vaccination in the search bar. Enter your zip code to compare prices at pharmacies near you.
2. Make an appointment
After you've located the cheapest pharmacy near you to get your vaccination, it is often necessary to make an appointment to receive your vaccination. Most pharmacies have a website or mobile app that you can use to schedule your appointment, or you can call the pharmacy directly to schedule your appointment. We've included links to popular pharmacies vaccine scheduling tools below to make your life easier:
3. Show your card to save
When it's time for your appointment, head to the pharmacy and check in with the pharmacist. At checkout, present your free Inside Rx card to the pharmacist to save on the cost of your vaccination. You can instantly download your unique savings card from our website, email or text it to yourself, print it out, or store it conveniently in your pocket with the Inside Rx mobile app.
How much will I save
The cost of vaccinations differs depending on insurance, state regulations, administration fees and a number of other factors. If you are uninsured or an underinsured cash-paying consumer, Inside Rx can help you save on certain vaccinations.
Keep in mind the prices shown on InsideRx.com for vaccines are for the medicine only and do not cover administration fees. Because pricing shown online or via the Inside Rx app is subject to change in real time, Inside Rx cannot guarantee that the price you pay at the pharmacy will always be the price displayed before purchase. Estimated retail prices, where available, reflect average retail prices for cash-paying purchasers based on Inside Rx data, which may change in real time.
Which vaccines are eligible vaccination discounts through Inside Rx?
Inside Rx is now offering vaccination discounts on vaccines. This includes:
Influenza
Varicella
Tetanus, Diphtheria, Pertussis (Tdap)
Hepatitis
Pneumococcal
Meningococcal
Measles Mump
Tetanus/Diphtheria
N. Meningitidis B, Lipid
Typhoid
Rabies
Haemoph B Poly
Poliomyelitis
Japanese Encephalitis
Zoster
Other information
Unsure what vaccinations you or your family should get? Check out the Centers for Disease Control and Prevention (CDC) vaccination schedule. This will break down which vaccines are needed at which ages for you and your family.
If you have questions about a vaccine, you can refer to the drug information via Inside Rx after you search for your vaccine. If you have additional questions, you can speak to your physician, pharmacist or contact the drug manufacturer directly.
For more information, refer to our Vaccines page.