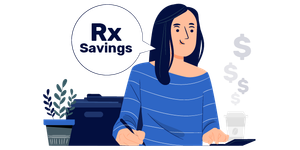 Prescription Savings
Steps for How To Apply for Prescription Assistance
03/20/2023
Prescription assistance programs are available for those who need help affording their necessary prescription medications. There are eligibility requirements for most of these, and a number of steps to apply for them. Learn about the steps for how to apply for prescription assistance below.
Prescription assistance programs can be a lifeline for those who need medications but cannot afford them. These programs provide access to prescription drugs at a discounted rate, making it easier for those with limited financial means to receive the medications they need. For example, some programs may offer discounts on medicines, while others may give reimbursements for prescriptions that have already been purchased. By taking advantage of these programs, individuals can receive the treatment they need without sacrificing other essential expenses.
Being a member of a prescription assistance program can significantly help you if you want to reduce out-of-the-pocket medication costs or if you're just looking for smart discount opportunities. So how can you apply for these programs? Keep on reading because we outline the steps on how to apply for prescription assistance below.
How to Apply for Prescription Assistance
1. Research
Numerous programs are available in the market, and some offer better perks than others. For this reason, you must do initial research to find the one that best fits your needs.
You can start by searching for prescription assistance programs offered by your state or local government and those provided by pharmaceutical companies in your area. Also, some private organizations may offer assistance. For example, Inside Rx is a nationwide prescription assistance program that offers up potential discounts on medication costs. Once you have identified a few potential candidates, look into their eligibility conditions and documentation requirements.
2. Gather Documents
Documentation requirements differ widely from one program to the next. Some require their members to have insurance, while others don't. Some also have age restrictions of up to 60 years, while other programs cater exclusively to senior citizens. However, the usual documents programs ask from their would-be members are proof of income, proof of residency, and a list of medications they are taking.
Ensure all documents are up to date and accurate to avoid delays. If you feel gathering the necessary paperwork is too much of a hassle, there are private programs that have no application requirements, such as Inside Rx.
3. Application Process
Most prescription assistance programs have an online application that can be filled out and submitted electronically. If not, a paper application may need to be completed and mailed in. It is crucial to ensure that all the information is accurate and complete, as this can affect an individual's eligibility for the program.
Once the necessary documents have been submitted, you must follow up with the program to make sure that it has been received and is being processed. This may involve calling or emailing the program to check on the status of the application. Additionally, individuals should make sure to respond promptly to any requests for additional information or paperwork.
The program may take a few weeks to process your application and notify you of their decision. Once accepted, you must follow the program's instructions for obtaining your discounts or reimbursements.
4. Stay Up to Date
Finally, staying informed about prescription assistance programs or policy changes is crucial. You will need to check their website regularly for updates or changes in eligibility requirements. Additionally, you must keep track of any changes in their income or other circumstances that may affect their eligibility for the program.
How Patient Assistance Programs Work
Knowing the steps on how to apply for prescription assistance can make the application process less complicated. But how do these programs work exactly?
If the prescription assistance program is not funded by the state, they are sponsored by private companies that partner with pharmaceutical manufacturers so they can provide discounted rates on medications to consumers. The program receives a fee every time a payment is processed through their members' discount cards while their partner pharmacy enjoys the added traffic to the store, which translates to more significant sales.
Get Healthy Savings With Discount Cards
By providing financial assistance to those in need, prescription assistance programs can help individuals access the medical care they need and improve their overall health. Applying to be a member may seem daunting, but with the correct information and resources, it can be a straightforward process.
Fortunately, some programs don't require you to go through troublesome procedures. With Inside Rx, you can get a discount card within seconds. Just click here, and our system will automatically generate a unique card that you can download or print out. That's it! There are no registrations, sign-ups, or fees required. Present your discount card at your local pharmacy to get healthy savings for your or your family's prescriptions. You can get up to 80 percent off the price of brand and generic drugs.
Download an Inside Rx card now.
Sources: