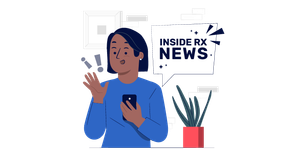 News
Inside Rx Pets Savings Program Helps Pet Parents Save Big
02/20/2018
Medications commonly prescribed by veterinarians deeply discounted
Save an average of 75 percent on generic and 15 percent on brand medications
Pet parents of dogs, cats, hamsters, reptiles and even monkeys can now more easily afford their pet's prescribed medications with the Inside Rx Pets discount card, which can offer an average savings of 75 percent off generics and up to 15 percent off brand medications. The Inside Rx Pets program is offered by Inside Rx, LLC, a partially owned subsidiary of Express Scripts (NASDAQ: ESRX), which also offers the Inside Rx prescription savings card.
Costs for managing your pet's health can be a bear with pet owners spending more than $8 billion on prescription and over-the-counter medications annually. The Inside Rx Pets program offers savings on commonly prescribed medications such as insulin and antibiotics, as well as seizure, glaucoma, and anti-inflammatory drugs. A complete list of the medications available through the program, as well as pricing information and other details, can be found at https://InsideRxPets.com.
"There are not many cost-savings options when pets require prescription medications," said Leslie Achter, CEO of Inside Rx. "With today being 'Love Your Pet Day', we felt now would be the perfect time to introduce this new program and provide pet parents with some relief from the cost of medications prescribed by a vet to treat their pet."
Benefiting from these discounts is easy for pet parents: simply download the free discount card from the Inside Rx website and present it at one of the 40,000 participating pharmacies located across the U.S. and Puerto Rico. These include national chains such as Kroger Family of Pharmacies, CVS and Walgreens. There is no membership fee to benefit from the savings offered through Inside Rx.
For the convenience of pet parents, starting later this month the Inside Rx Pets card will also be available at the counter in all Kroger Family of Pharmacies locations. The Inside Rx Pets card is not insurance and cannot be used with insurance.