Prescription Savings
How to Save On Prescriptions Without Insurance
06/08/2020
Paying out of pocket for prescription drugs for your family (including your pets) can be overwhelming. With or without insurance, there are ways you can save money on prescriptions.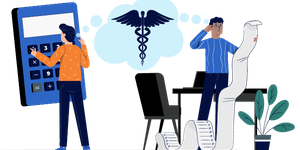 Here are three ideas to lead you down the path to savings:
1. Start with the doctor (or vet) who is doing the prescribing.
Ask your prescriber if he or she can recommend a lower-cost option for the medication, such as a generic alternative of a brand name drug
Your prescriber may also be able to prescribe a generic alternative to a brand product. This may be a generic product that is in the same class of drugs as the brand product.
Check out this list of the top 100 drugs, including brand name, generic name, what it's used for and medication class.Chances are good there's a generic equivalent or alternative for at least some of the medications your doctor prescribes.
2. Use Inside Rx's price medication tool to compare local pharmacies and prices.
Once you have the name of the drug you plan to purchase, use the handy find a medication pricing tool to find a pharmacy near you that offers you the best price. You can save money on prescriptions by plugging in your prescription name and your ZIP code. You can also adjust the strength and quantity. You'll see a list of local retail pharmacies, including most chains and independent pharmacies, which are pharmacies that accept the Inside Rx card. See how each pharmacy's prices compare to the regular retail price. If you're shopping for medications for a pet, Inside Rx offers a special price medication tool for pets. Look for human crossover medications prescribed for pets, such as antibiotics, insulin and much more.
3. Go to Insiderx.com to see if you could save with our free prescription discount card.
You've asked your prescriber (or vet) to prescribe a cheaper alternative such as generic drugs. You've priced the cost using the Inside Rx medication pricing tool.
Next, get your free Inside Rx prescription discount card. Simply go to the get savings card section of our website.
From there you can download and print out your card (or cards, if you're also looking for discounts on prescriptions for your pet(s)) directly from the website. Through the site, you can even have the card sent to you via email or text to you -- whichever method is most convenient. For more convenience, download our mobile app from the App Store® and on Google Play®.
You'll use the same card every time you go to the pharmacy, so keep it handy.
Once you have your Inside Rx prescription discount card(s) you have everything you need to save money on prescriptions without insurance.
The Inside Rx card is accepted at over 60,000 retail pharmacies throughout the U.S. and Puerto Rico.
You may ask how much you can expect to save. On average, card users save 70% on brand name and generic drugs*. If you're going with a lower priced generic, you may save even more.
We understand how expensive medications can be for people without insurance. And it's not easy to find great discounts on prescription drugs. Following these tips and using the tools offered by Inside Rx, you may save quite a bit on prescription drugs without insurance. Explore the Inside Rx site and see for yourself. We're here to help you get discounted prices from a pharmacy you can trust on medications you need for your family as well as your pets.
Savings based on all Inside Rx users, as compared to cash prices; average savings rates for generics are 78%; 37% for featured brand medications. See Discount Restrictions.