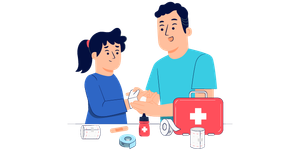 Pediatric Health
How to Choose Safe Toys and Gifts for Your Children
11/15/2022
The holidays are a wonderful time of year for most, especially for children who are excited for the gifts they will receive! It is important to be mindful of the gifts that you are giving and those that your children may receive from others, as some toys can be harmful to children. We've put together a guide for things to took out for when choosing safe toys and gifts for children this holiday season and beyond.
There are times when accidents or injuries can happen during playtime. For this reason, parents should be aware of how to choose safe toys for their children, especially during the holiday season. Putting in the extra effort to research the safest and best toys beforehand could mean the difference between a happy and an injured child. After all, prevention is key.
Unfortunately, the myriad of offerings in the toy market can make the search for safe toys difficult. Parents can avoid headaches by understanding the qualities of safe toys and knowing certain hazards to look out for.
What to know about safe toys
Playing is one of the simple joys of childhood. Good toys can aid in early child development by stimulating learning and the senses. Therefore, getting suitable toys should be given attention. Below are some things to consider when purchasing safe toys.
Know the components of a toy
There is a list of the components in either the box or the toy's label. Checking it would make it easier to determine whether it's safe for playing. Avoid the ones that have toxic chemicals on them. Watch out for bisphenol A (BPA), lead, and phthalates which are chemicals that are harmful to children.
Follow the care and management instructions of a toy's label
The label on the toy often explains how to maintain the toy in top shape. In addition, toy labels usually have information on avoiding possible injuries due to improper handling of the toy.
Purchase large toys as a way to skip choking hazards
Some toys have small parts that can act as a choking hazard. Safe toys won't be able to pass through the mouth if they are bigger than what the child can swallow. Not to mention, the size will make toys easier to spot and store after playtime.
Make sure that the toys you are getting are age appropriate
Do not give toys designed for a 12-year-old to a younger child. Children and teens have varying levels of development and capabilities, so they play differently from one another. Age limits for toys are based on safety concerns.
Look for accredited signs of approval of the toys
A toy that is UL approved indicates a toy that complies with certain safety standards. Toys with the UL Toy Safety Certification have been tested for mechanical use and abuse, flammability, and toxic chemicals. Look for the UL symbol on the toy's label to determine whether it is a safe and high-quality toy.
Other key considerations for toy safety
In addition to choosing the right toys, parents should be attentive to their children during playtime. Consider the following when supervising children with toys.
Train kids to be responsible with their belongings. Show them that toys should be put away and organized after playtime.
Ensure that all of the toys are in tip-top shape. Toys that have rust or broken parts may be safety hazards for children.
Get durable toys that are meant to last long. Parents may consider storing the toys and giving them to their next child.
Bottom line
Children should always play with safe toys. Knowing what they look out for can help parents find the safest, highest-quality toys for their children. Look for toys that are age-appropriate, free of toxic chemicals, and certified for safety and quality.
Parents should never leave their children's safety to fate. Get the best toys for your children. Make a choice that does not take away the fun for children. Be sure to provide family members and friends a list of safe toys for them to gift during the holidays to keep your holiday season happy and healthy.