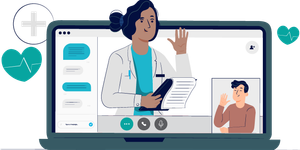 Health Tips
Prescription Drug Use Takeaways
06/29/2021
2020 proved to be a challenging year for Americans, especially for those with pre-existing health conditions. Even then, the importance of staying healthy transitioned to the forefront of many people's minds as COVID-19 took hold across the world.
Several changes, including how people were able to access their medications, have and continue to push people to adapt.
The 2020 Drug Trend Report from Evernorth provides valuable insights on the latest trends in prescription drug use, adherence, and costs as Americans focused on their health in the past year. It also lays the groundwork for future trends as the field of healthcare continues to advance. Read on to learn about the biggest takeaways from this report.
The impact of COVID-19 on prescription drug use
Those with underlying conditions were recognized to be at higher risk of severe complications from COVID-19. As a result, preventative treatments for conditions like diabetes, heart disease, liver disease, asthma, and COPD became more important for millions of Americans. This resulted in an increased use of medications that prevent stroke and heart attack, as well as complications from other chronic conditions like diabetes and high blood pressure. Mental health also became a key focal point in healthcare with more drugs prescribed to treat conditions like anxiety, insomnia, and depression.
Drug usage trend increases
According to the report, prescription drug use to treat inflammatory conditions, cancer, and HIV has increased. The use of drugs for treating inflammatory conditions such as rheumatoid arthritis and psoriasis, among other conditions, increased by almost 5%. However, specialty injectable drugs make up the majority, approximately 95%, of the drugs in this category with an average cost of $4,500 per prescription. The use of drugs for treating different types of cancer, such as lymphoma and breast cancer, increased by about 6%, and the use of drugs for treating HIV increased by about 2%.
Drug usage trend decreases
On the other hand, the use of prescription medications for pain, namely opioids, decreased by just over 1%. Spending on antihypertensive drugs, or drugs used to treat high blood pressure, fell by 5% over the past year. With a decrease in antihypertensive drug prices, more antihypertensive prescription drugs were dispensed with an increased utilization of 4%.
Drug costs
List prices, or the prices that drug manufacturers initially set, continued to rise for most brand name medications. This upward trend has been apparent since 2016. However, the prices for generic medications have declined sharply. Brand name drug list prices increased by 36% while prices for generic medications decreased by 42% since 2016. In 2020, 17 of the top 25 drugs that accounted for total pharmacy spend across the U.S. were specialty medications. That is equal to more than half of total pharmacy spend accounted for by specialty medications.
Looking ahead
The COVID-19 pandemic continues and the effects of the pandemic are still being monitored as we hit the midway point of 2021. Trends in mental health care and long-term health needs will continue to be observed over the next year. According to the 2020 report from Evernorth, spending on specialty drugs, such as those used to treat inflammatory conditions, cancer, and HIV, is expected to increase by 10 to 15% over the next three years. However, this trend may be slightly affected by the approval and availability of generic HIV drugs that are expected to be released in the near future.
Managing drug costs
As increasing drug costs remain a problem, more people are looking for ways to save on their prescription medications. Prescription drug discount cards, like those offered by Inside Rx, have become a popular option for both uninsured and underinsured patients looking to save money.
Inside Rx is a free and convenient way to possibly save up to 80% on brand and generic medications. The Inside Rx discount card is accepted by over 60,000 pharmacies across the U.S. and Puerto Rico. Instantly download your unique savings card and present it directly at the pharmacy counter. You can use the medication search tool on the Inside Rx website to find the lowest prices at the pharmacies nearest to you.
To learn more about Inside Rx, visit our FAQ page.