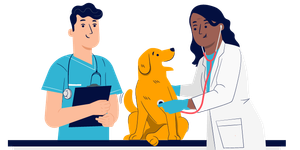 Pet Health
Pet Safety During the Holidays
11/29/2022
With the holiday season quickly approaching, it's easy to get overwhelmed and not pay as much attention to your furry family members. However, pet safety is extra important this time of year with decorations, family gatherings, trips and lots of human food. Be sure to remember these tips to keep your pet safe during the holidays.
The holidays are fast approaching. Are your preparations right on track? Have you given any thought to pet safety during the holidays? You see, the season to be jolly can bring a bit of anxiety to pet lovers. The festive season, after all, can come with colorful and textured home decor, lots of delicious dishes, family gatherings, and vacation trips. If you're wondering how to keep your fur babies safe during the holidays, continue reading about some useful pet safety tips.
Decorating with pet safety in mind
Before you start decorating, make sure your pet is safe in another room or with a friend or family member. Some pets can get stressed by the hustle and bustle of putting up decorations, while others may be tempted by the tree's fragrant scent or shiny ornaments. Hence, it's best to keep them somewhere safe in the meantime. Here are additional tips:
Keep all decorations out of your pet's reach. Remember, small items like tinsel or ribbon can be ingested and cause harm.
Consider pet-safe lighting options like LED lights or candles that don't require heat or flame.
Remove all electrical cords from view so pets can't chew on them. You can tape them to the floor, so they don't get tangled up with your pets. Likewise, remember that chewed cords can cause burns.
Try to keep an eye on any sharp objects that might be part of your decorations.
Certain decorations can fall or tip over, such as hanging ornaments on the tree and the tree itself.
Be careful with other festive plants. For pet safety, it's best to be careful with plants, such as lilies, mistletoe, and holly. The Christmas tree base water can also contain fertilizer that can lead to an upset stomach.
Holiday Treats? Not so Fast!
As a pet owner, it may be hard to resist the urge to treat your pet with holiday foods. But did you know that some of these treats can be harmful - even deadly - to your fur baby? Here are foods items to keep them away from:
Alcoholic beverages (be mindful of spills)
Turkey and turkey skin
Bones from left-over meats (they might break and cause injury or blockage)
Chocolate, candies and other sweets that might contain toxic xylitol.
Nutmeg and other spices
Macadamia nuts
Raisins and grapes
Citrus fruits
Guests and Gatherings
Holiday gatherings are a time for friends and family to come together and celebrate. However, there is a possibility that your pets won't like being in the company of people they don't see on the regular. How do you ensure pet safety with guests and during gatherings? Here are some tips:
During gatherings, make sure your guests know about your pets. You don't want anyone to accidentally step on them or leave the door open when they leave.
Give your fur babies an extra walk or playtime before the party starts. That way, they can tire out and won't be as likely to act out when people come over.
Try setting up a separate area for pets where they can be away from all the excitement of holiday cheer. Ideally, this separate room is escape-free as fur babies are often terrified by loud noises.
Safe Travels
The holiday season is a great time to go for adventure or unwind somewhere peaceful. If you can't bring your pet with you, leaving them to a trusted sitter is the best course of action. But, what if you want to travel with them? Here are some pet safety tips when going on a trip with your fur baby.
Familiarize yourself with local laws regarding animals in your destination. Many places require pets to have a health certificate.
Make sure your pet has proper identification. Your best bet is a microchip with an ID tag; however, if you would prefer not to have the microchip implanted, at least make sure you have an ID collar or tag on hand.
Ensure proper restraint during transport. If flying with them, make sure to have an airline-approved carrier that provides safety and comfort.
Pet Safety Takeaways
To fully enjoy the holidays with your fur babies, think of pet safety when it comes to decorations, foods, gatherings, and travels. The above tips can serve as a guide, but if you have further questions, don't hesitate to discuss things with a vet.
Wishing you, and your pets, a safe and happy holiday season!