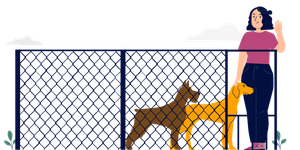 Pet Health
Easy ways to save on pet meds
02/16/2021
For many of us, our pets are like family. So, when it comes to treating their medical concerns, we spare no expense. But what if there was a way to save on pet meds without sacrificing their care? We've explained some of your options below.
You've Got Options
Pet insurance is an option to help make your pet's care more affordable. While it comes at a monthly premium cost, it can help you save when it comes to pet accidents and illnesses, vet visits, pre-existing and new conditions, specific conditions and pet medications. Pet insurance can be used at any veterinary clinic in the U.S., with no networks of co-pays to consider, like with human health insurance. Be sure to shop for a plan that fits you and your pets needs.
You can also shop around at different pharmacies or veterinary offices that have your pet's medication, and compare prices to find the lowest price. This can be time consuming and still be expensive.

Inside Rx Pets Can Help You Save on Pet Meds
In 2020, Americans spent over $29 Billion dollars on veterinary care and pharmaceuticals. While vet bills will vary depending on which practice you use, Inside Rx Pets may be able to help you save on the cost of pet meds. Did you know you have the option to fill your pet's prescriptions at your pharmacy rather than at the vet's office? When you fill your pet's prescriptions at the pharmacy, you're eligible for special discounts with the Inside Rx Pets savings card.
The Inside Rx Pets savings card is free to download and accepted at over 60,000 pharmacies in the U.S. and Puerto Rico. Simply present the card to your pharmacist when filling your pet's prescription and see if you can save up to 75% on generic and 15% on brand name pet meds.
Seeing how much you can save is easy. The Inside Rx Pets page features a convenient pricing tool where you can search for your pet's medication and see what your potential savings could be. From anti-anxiety medications to essential antibiotics and steroids, you can save on the pet meds your best friend needs. Certain drug manufacturers may also offer specific coupons that can sometimes be used along with your Inside Rx savings card. Research the manufacturer behind your pet's medication and see if they offer any additional discounts on their website.
Inside Rx can also help you save on medications for the rest of the family. Whether you choose to utilize the Inside Rx Pets savings card, choose a pet insurance plan or search for individual prescription coupons, take comfort in knowing you have options when it comes to paying for medications for your beloved pet.