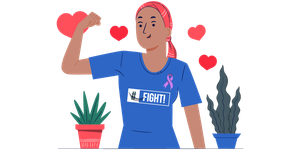 Oncology/Cancer Care
Ovarian Cancer Symptoms: What to Look For
08/02/2022
Ovarian cancer is quite common among American women and is known for having a low survival rate. Because of this, it is imperative to detect it as soon as possible. One way to do this is to be aware of ovarian cancer symptoms and have regular checkups with your doctor. Read on to learn more about ovarian cancer symptoms and what to look for.
Reviewed by the Office of Clinical Evaluation and Policy (OCEP), Evernorth
Almost 20,000 women are estimated to have ovarian cancer in the U.S. in 2022. It is usually diagnosed at late stages when the expected 5-year survival rate is only around 30%. It can be hard to detect growths in the ovaries due to the location and size of the ovaries. However, that doesn't mean ovarian cancer can't be discovered early. There are several signs and symptoms to watch out for that may indicate a problem with the ovaries.
There is currently no screening method that healthcare providers use to detect ovarian cancer early in women without symptoms. Women with a family history of ovarian cancer or mutations in the BRCA gene may be considered at high risk of developing ovarian cancer. Otherwise, watching for possible ovarian cancer symptoms may be the best way to get diagnosed and treated early.
Continue reading to learn more about ovarian cancer symptoms and when to see a doctor.
Signs and symptoms of ovarian cancer
Signs and symptoms of ovarian cancer are most apparent in the late stages, but some signs and symptoms can also develop in early-stage ovarian cancer. These signs and symptoms may indicate other medical health conditions. However, if any of these signs or symptoms arise suddenly, remain consistent, or last for weeks, you may want to consult with a healthcare provider.
Abdominal pain
Abdominal pain or pain around the stomach area is a common symptom of digestive conditions, such as irritable bowel syndrome. It can also be a sign of stress or menstrual cramps. Although it can be easy to chalk it up to less serious problems, it's important not to ignore it if it doesn't go away. If you find that the pain continues for weeks on end, you may need to be evaluated by a doctor.
Bloating
You might feel bloating or a sensation of fullness during the time leading up to a diagnosis. Many women experience bloating during their monthly cycle. However, if you experience frequent gas and heartburn that seems to last every day, you might be experiencing an early sign of ovarian cancer. If you notice that your stomach is visibly swollen (abdominal distension), you should consult with your doctor.
Urinary symptoms
Urinary symptoms, such as increased frequency (urinating often) or urgency (feeling the need to go often), could be a sign of ovarian cancer. Many women may experience urinary symptoms as a result of a urinary tract infection. However, if you experience urinary symptoms, including pain in the bladder area, you should talk to your doctor.
Other symptoms of ovarian cancer
Other symptoms can develop and signal that you should get evaluated for ovarian cancer. These symptoms may include:
Back pain
Constipation
Pain during sex
Changes in menstruation
Fatigue
Nausea
Weight loss
Feeling full quickly after eating
When you should see a doctor
At advanced stages, ovarian cancer can be challenging to treat. That's why it's important to see a doctor as soon as you feel you're experiencing unusual symptoms. According to the American Cancer Society, you should see a doctor if you experience any of the above symptoms more than 12 times per month.
Many of the symptoms mentioned here can often be caused by less serious problems, so they might not be a cause for concern. Still, you shouldn't ignore these symptoms. If you do experience symptoms, you won't be able to diagnose ovarian cancer on your own. With the help of a cancer specialist, you can get any necessary examinations or tests to see what may be causing your symptoms.
Inside Rx is here to help
While Inside Rx can not provide discounts on cancer treatments, we can help you save on other prescription medications to keep you healthy. Medication can often be prescribed if you are struggling with some of the symptoms above but don't have as serious of a diagnosis. We offer discounts on thousands of brand and generic medications, helping you save up to 80% off with our prescription savings card.
Whether you require medication for a health condition, are looking for ways to save on contraceptives or other women's medications, or just trying to be proactive about your health, Inside Rx has got you covered.