Prescription Savings
How to Transfer Prescriptions to Another Pharmacy
03/23/2021
Changing pharmacies is sometimes a necessary part of life. Whether it be a recent move or better pricing, there are a variety of reasons you may need to change pharmacies. While it seems like a daunting task, changing pharmacies doesn't have to be so scary. It is important, however, to ensure you properly transfer your prescriptions to your new pharmacy. We've put together a guide on how to transfer prescriptions to another pharmacy to help you out when the time comes!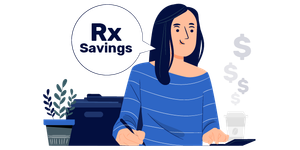 Whether you've moved to a new city, discovered lower prices, or simply decided you want to change pharmacies, it's important to be aware of how to transfer prescriptions to another pharmacy. With so many options available these days, no one can blame you for finding a pharmacy that suits your needs.
It's also important that you find a pharmacy and a pharmacist that you trust. After all, they'll be in charge of one of the most important aspects of your health: your medications. A knowledgeable and trustworthy pharmacist can not only assist you with your medications, but they can also be there to advise you on general health questions. Read on to learn some tips on how to transfer prescriptions to another pharmacy.
How to transfer prescriptions to another pharmacy
Once you've decided you're ready to switch pharmacies, there are some things to keep in mind when transferring prescriptions.
A couple simple steps:
1. Ensure you're able to get the medications you need
Before you make the switch, make sure the pharmacy offers all of the medications you need. Discuss what medications you will need to transfer with the pharmacist, especially if you take certain specialty medications, opioids, or controlled medications. Some medications can only be transferred once even though there may be several refills left. These medications may include Ultram™, Ambien™, and Xanax™.
You may also want to compare prices for your medications at pharmacies near you. You can do this quickly and easily using the Inside Rx search tool. Simply type your medication(s) name into the search bar, enter your zip code, and quickly compare prices at local pharmacies.
2. Contact your new pharmacy
Once you have selected the best pharmacy for you, it is time to contact them to begin the transfer. This can be done over the phone, or even online for most pharmacies. The new pharmacy will generally be the responsible party for making sure your prescriptions are transferred from the old pharmacy. After you notify the new pharmacy of what prescriptions you want to be transferred, they will contact your old pharmacy. You may want to check with your doctor to see how many refills you have, although the pharmacist can also contact your doctor for more refills as well.
Transferring online
Most pharmacies have apps or online platforms that allow you to begin a transfer without picking up the phone. Follow the steps for that specific pharmacy to ensure the completion of the transfer. To make your life easier, we've included links to the transfer portal for popular pharmacies across the country. Don't see yours below? Not to worry! Head to that pharmacy's website and search for their pharmacy transfer information.
Transferring over the phone
Call your new pharmacy and inform them you would like to transfer to their pharmacy. Be prepared to give any necessary information. The new pharmacy will need your details to ensure a smooth transition. These details may include:
Your name
Your date of birth
Your address and phone number
All of the names of your prescriptions
The dosage and strength of your medications
The Rx number for each prescription (often labeled on the bottle)
Your prescribing doctor(s) contact information
The address and phone number of your current pharmacy
The pharmacist will take it from there!
Other Tips for Transferring Prescriptions
Get all of your prescriptions from one pharmacy
It's recommended to get all of your prescriptions from one pharmacy, so be sure to have them all transferred at once. If you get your prescriptions from multiple pharmacies, your pharmacist may not be able to see a complete medication profile. As a result, there may be an increased risk of drug interactions if, for example, you're getting a similar medication from two different pharmacies.
Tell your doctor of the switch and talk to your new pharmacist
Inform your prescribing physician of the pharmacy switch. That way they can stay updated on where to send any new prescriptions or refills so that it's convenient for you. You can also take the opportunity to get to know your new pharmacist and inform them of any over-the-counter (OTC) medications you may be taking or any questions or concerns you may have.
Discounts and Savings with Inside Rx
Most people decide to switch pharmacies because of savings offers and better prescription prices. This is because prescriptions prices can differ across many pharmacies.
Inside Rx is a prescription savings card that can save users up to 80% off brand and generic prescription medications. Our search tool makes it easy to compare prices and find the lowest prices for your medications at pharmacies nearest you. Simply type your medications in the search bar, enter your zip code and you'll be shown prices to compare at the pharmacies closest to you. Then, simply download a card and take your unique Inside Rx card to the pharmacy to redeem your savings offer. To learn more about Inside Rx and how you can save, visit our FAQ page.