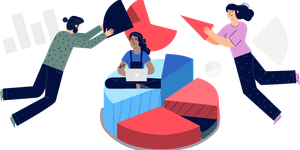 Prescription Savings
3 Tips on How to Get Cheaper Medication
06/08/2020
As families are budgeting for their healthcare needs, one of their biggest concerns is how to get cheaper medication. Here are three easy tips to help lower your prescription costs.
Tip #1 Opt for generic medications when applicable versus brand name medications.
Do this by asking your prescriber if there's a generic alternative to any brand name drug she is prescribing for your or your pet. Generic medicines work the same way and use the same active ingredients.
Generics are cheaper by definition, because their manufacturers don't have to recoup the same R&D costs for bringing the drug to market. And generics continue to become more affordable. Since 2014 prices for common generic drugs have dropped 37 percent. Meanwhile, branded drug prices have risen 60 percent.
Doctors can be great allies in finding a substitute that will provide the same therapeutic benefits for less money. Unless you are prescribed a drug still under patent protection, chances are good there is a generic substitute.
Bottom line: Enlist your prescriber's help in finding cheaper medications by asking for generic equivalents or alternatives to brand name drugs when available.
Tip #2 Price check your medication on the Inside Rx medication pricing tool to see which pharmacies offer cheaper prices in your area.
Once you have your prescription for a generic drug, look it up on our price medication tool to see which pharmacy offers the best price in your area. Simply type in the drug name and your location (address or ZIP code) and the tool will show you a list of nearby pharmacies and their price for that drug.
The Inside Rx Find A Medication Price Tool defaults to the most commonly prescribed strength and quantity. However, you can change either or both specifications.
It's easy to find cheaper medication at a pharmacy you trust with the Inside Rx medication pricing tool. There are 60,000 participating pharmacies nationwide, plus home delivery through Express Scripts.
Tip #3 Use Inside Rx discount card to get discounts on generic and brand name medications.
It's a lot easier to get cheaper medication when you have experts to help. As noted above, enlist your doctor to find lower priced generics. But even if there is no generic available, you may still be able to save money with Inside Rx. Inside Rx offers extensive discounts on numerous brand medications for which no generic exists, such as insulin discounts.
Next, get your Inside Rx card. This prescription discount card works like an identification card. You present the same card to the pharmacy every time – it's not a one-time "coupon" for a specific drug.
After you've found the pharmacy with the best price for your prescription, take your Inside Rx card and prescription to your preferred pharmacy. The pharmacist may quote a slightly different price than what came up on the medication pricing tool. This is because all Inside Rx pricing is done in real time. The pharmacist will always have the most up-to-date negotiated price.
You can use the Inside Rx card to purchase medication for yourself or any family member. You can even use Inside Rx to get cheaper medication for your pets. There's an Inside Rx Pets card and even a separate pricing tool for pet medications.
Both the people and pets Inside Rx discount cards work the same way. Print the desired card(s) or download a PDF. Or, have your card(s) texted or emailed to you for storing in your mobile wallet.
The Inside Rx card is free and doesn't require registration. It is accepted at all major drug store chains as well as many independent retail pharmacies. Most important, Inside Rx users have typically saved an average of 70 percent off the retail price to help keep everyone in your family healthier*. See if you could save with the Inside Rx card by reading more about the card terms and discounts offered.
In summary: that's how you can explore getting cheaper medications. All it takes are these three simple steps and Inside Rx.
Savings based on all Inside Rx users, as compared to cash prices; average savings rates for generics are 78%; 37% for featured brand medications. See Discount Restrictions.