Prescription Savings
How Do Prescription Discount Cards Work?
06/08/2020
It's easy and free to get a prescription discount card and start saving on needed medications right away.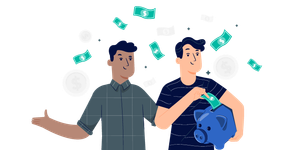 Who doesn't like to save money? When it comes to purchasing brand name or generic medications for you, your family and your pets, it can be a challenge. If you've been looking to save money at the pharmacy, you have a valuable ally: prescription discount cards. If you're unfamiliar with this powerful savings tool you may be wondering: how do prescriptions discount cards like the Inside Rx card work?
It's really quite easy. And for most, it's free and requires no information! Follow these five simple steps:
1. See if you are eligible for a discount card
The first point of eligibility has to do with your insurance status. Many prescription discount cards can be used by consumers who have prescription drug coverage through an insurance plan or not. However, prescription discount cards are not insurance and may not be able to be combined with any insurance benefit or copay assistance programs. If you have a Flexible Savings Account ("FSA"), you may be able to use a discount card using FSA funds. Check the terms of your FSA plan to be sure. Additionally, your plan may not permit a prescription claim paid for with a prescription drug discount card to count towards your plan deductible. As always, check the terms of your plan.
The second point of eligibility is tied to your location. For example, the Inside Rx Prescription Discount Cards for purchases at over 60,000 participating pharmacies in the U.S. and Puerto Rico. You can visit insiderx.com to find a participating pharmacy near you.
Some discount cards have restrictions for usage. Inside Rx has specific usage restrictions for people covered by state or federally funded benefit plans (such as Medicare, Medicaid or TRICARE). These consumers can use the Inside Rx prescription discount card for most purchases; however, there are restrictions on discounts associated with certain brand medications. Even if you elect to purchase a specific brand drug outside of your federal health plan benefit as an uninsured (cash-paying) customer, you cannot access specific brand discounts. Inside Rx identifies the brand drugs for which these restrictions apply on its website.
Additionally, discounts on some products may not be available to certain consumers regardless of their eligibility for state or federally funded benefits. For example, people age 65 or older may not have access to Inside Rx discounts for certain branded inhalers for asthma. Additionally, some discounts on specific brand products, such as insulin, are also not available for pets if using the Inside Rx Pets card. See the Inside Rx terms for more information.
Buyer beware. Some discount cards require you to provide personal information, such as your name and address. Other programs may also require an annual fee to participate. Inside Rx requires no information and is free.
2. Get a discount card online or via a mobile app
Most prescription discount cards can be obtained directly from the issuer's website or via a mobile app. The Inside Rx prescription drug discount card can be obtained via insiderx.com where you can download a card for printing, or request a card via email or text to save to your Apple Wallet. Be sure to download an Inside Rx discount card for you and a separate Inside Rx Pets discount card for certain human medications prescribed for your pets.
You can also download the Inside Rx mobile app on the App Store® or Google Play®. The app lets you keep your discount card with you at all times.
The same Inside Rx card can be used every time you fill a prescription, if you pay 100% out of pocket. You can use the same card for other family members and friends. One card can be used by up to 99 people.
3. Search for discounts on medications
Like most discount card programs, the Inside Rx discount drug card works by offering discounts on thousands of brand and generic medications at participating pharmacies. These include discounts on commonly prescribed human medications for pets, such as antibiotics and insulin.
You can use Inside Rx's website and mobile app to search for medication discounts for you as well as for your pets. First identify if you are searching for discounts for you or your pet. Enter the name of the drug and select the product that matches your prescription. Confirm you have the right strength and quantity. Confirm your location or zip code. The results will reveal the medication prices at pharmacies in your area. If a drug has restrictions, the Inside Rx website can help you confirm your eligibility for the listed discounts.
4. Bring the card to a participating pharmacy to receive the discounted price
Discount cards can be used at many pharmacies across the United States, including large retail chains, like Walgreens and CVS, regional chains like Kroger stores, as well as at independent pharmacies. Not all cards are accepted at all pharmacies. Always check the card program's website to see if your pharmacy accepts a discount card or ask your pharmacist if the card is accepted.
Simply bring your prescription and prescription discount card to your selected pharmacy to receive the discounted pricing. If you are using the Inside Rx card for a pet, be sure to present the pet version of the discount card.
5. Enjoy your savings
Be aware that prices at pharmacies do change often, so the prices displayed on most discount card program sites are not guaranteed. This means, the price you pay at the pharmacy counter may be higher or lower. You can ask your pharmacist for the price associated your discount card when you present your prescription. Your pharmacist will have the most up-to-date pricing for all discounted medications for both people and pets
In summary, that is how prescription discount cards work. Simply follow the instructions at Inside Rx to start saving on brand name and generic prescriptions for all family members – including the furry ones. Inside Rx users save an average of 80% on name brand and generic drugs at over 50,000 participating retail pharmacies across the United States and Puerto Rico. So there's no reason to keep wondering "How do prescription discount cards work?" It's easy and free to get a prescription discount card and start saving on needed medications right away.
*Savings based on all Inside Rx users, as compared to cash prices; average savings rates for generics are 78%; 37% for featured brand medications. See Discount Restrictions.