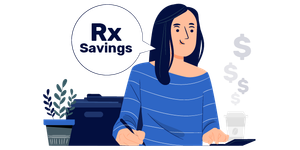 Prescription Savings
Smart Tips to Manage High Deductible Health Plan Costs
06/08/2020
It's the same issue every year: January 1st arrives and you need to meet an annual deductible before your health care coverage goes into full effect.
For people with a high deductible health plan, this can be a big expense at the start of the year.
High deductible health plans are increasing in popularity as a way to curb rising health care premiums. Typically, people are offered a plan at a lower monthly cost in exchange for a higher deductible. The IRS defines a high deductible health plan as any plan with a deductible of at least $1,400 for an individual or $2,800 for a family. For many people, their deductibles are even higher.
Whether you have a traditional plan or a high deductible health plan, out-of-pocket costs often hit people the hardest at the start of the year when coverage is minimal due to reset deductibles. Unmet deductibles typically mean you pay for the full cost of prescriptions, clinic visits, treatments and more.
Fortunately, there are a few simple ways to manage the influx of health care costs at the start of the year so you can save money and stay healthy.
Budget
Health care deductibles reset annually, which is why it's important to plan ahead and budget for expected costs. If you or your family members see a health care provider regularly, you can anticipate these expenses and create a budget.
If you have access to pre-tax savings plans through an employer, such as a health savings account, opt in to save by paying with untaxed dollars. Additionally, consider setting some money aside for a rainy-day medical fund. Unexpected expenses will pop up and having this cushion can help curb costs.
Use in-network providers
Every high deductible health plan is unique in which providers it considers in-network and out-of-network. In-network providers are typically covered at a higher amount by the health care plan, which means you will be charged less for services.
Before visiting a doctor or clinic, call your insurance provider and verify that the doctor or clinic is in-network so that you aren't surprised by a bill that's higher than expected. If your provider isn't in-network, ask about comparable providers who are so that you can access savings.
Payment plans
If you do end up with medical expenses and can't pay the balance all at once, call the clinic's billing office to work out a payment plan. Many health care organizations want to be proactive about finding a reasonable way for you to pay, even if that means specified monthly payments until you're caught up.
Health care costs at the start of the year have the potential to be financially crippling. However, with a few smart steps, you can manage these expenses and a high deductible health plan with ease while keeping yourself and your family healthy.
Inside Rx
If you need a prescription but currently have to pay out-of-pocket until you meet your deductible, consider using a free prescription savings card, such as Inside Rx, to access medication savings. Inside Rx helps people who pay out-of-pocket for their medication by offering prescription discounts that could save an average of 70% on brand and generic medications*.
Download the free Inside Rx savings card at Insiderx.com. Remember, not all pharmacies charge the same price for medications. While on the website, use the cost-comparison tool to learn which local pharmacy offers the best price for your prescription.
*Savings based on all Inside Rx users, as compared to cash prices; average savings rates for generics are 78%; 37% for featured brand medications. See Discount Restrictions.