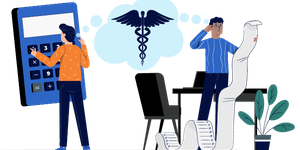 Prescription Savings
Where Can I Get a Glaucoma Medication Discount Card?
02/15/2023
Treating glaucoma can be costly, especially if you need to take one or more prescription medications. Fortunately, you may be able to save money on your glaucoma medication as well as other prescription medications when you use a prescription discount card. Learn more about where to find a glaucoma medication discount card below.
Dealing with glaucoma can be challenging. Adding to a glaucoma patient's challenges is the financial burden of treatment. According to research published in the Journal of Glaucoma, name-brand medications increased in price by 59 percent between 2013 and 2019. While generic versions decreased in price, not all doctors prescribed them.
A prescription discount card helps users save money on most medications, such as those used to treat glaucoma. They can be downloaded from card providers' websites, saved onto devices, accessed via apps or printed. The amount of a glaucoma medication discount you get depends on the card you use.
There are many discount cards from manufacturers, nonprofits and private businesses that you can use. Read on to learn how to choose the right one.
Factors to Consider When Choosing a Glaucoma Medication Discount Card
Most discount cards may help you get a glaucoma medication discount. However, they're not entirely the same. Each has its own pros and cons.
The challenge lies in picking the best one for your needs. When choosing a discount card, it may help you to consider the following factors:
Medication Coverage
Not all discount cards can help you get a discount on the specific brand or type of glaucoma medication prescribed to you. Before you sign up for or download a card, be sure to look up your medication on the card provider's website first. This way, you won't have to go through the trouble of getting a discount card you won't even be able to use.
Eligibility
Some discount cards have restrictions and requirements. Before you get one, make sure that you're eligible for a glaucoma medication discount. You can do so by visiting the FAQs or help page of the provider's website or contacting the provider through their customer service lines.
Cost to Use
Most discount cards are free. However, others require a fee to use or to access "premium" features such as a bigger glaucoma discount or more savings on other prescription medications. The ideal discount card would give you a good deal on glaucoma medication without requiring you to pay more.
Convenience
Before choosing a discount card, consider its ease of use. For instance, would you still be able to use it if you had to go to a different state? Is it accepted at the pharmacies you usually go to, or would you have to travel to a faraway pharmacy to get your discount?
Customer Service
Pharmacies should have already been briefed on processing discounts using a partner provider's card. However, mistakes and technical problems can sometimes happen. That's why the best providers give users access to a reliable customer service hotline they can call in situations like these.
Before you pick a discount card, first check whether they have a number you can call in case you run into problems redeeming your glaucoma medication discount.
Introducing Inside Rx: A Free and Convenient Rx Medication Discount Card
Inside Rx serves as your ticket to healthy savings. You can use it not only to get a glaucoma medication discount but also to save on other medications for which you have a valid prescription. Our medication coverage includes thousands of prescriptions as well as some vaccines, including those for:
Flu
Shingles
Rabies
Measles, mumps and rubella (MMR)
Tetanus, diphtheria and pertussis (Tdap)
Tuberculosis
Chickenpox
Inside Rx is completely free to use. You do not need to pay for membership in order to access savings of up to 80 percent off brand and generic medications.
It's also convenient. No sign-up is required, and you can use your discount card at our partner pharmacies nationwide.
If, for some reason, the partner pharmacy you go to cannot process your Inside Rx discount, you can have them reach out to customer service. Our customer service line is open seven days a week, from 8 AM to 9 PM EST.
Where to Use Your Inside Rx Discount Card
Inside Rx works with more than 60,000 pharmacies in the U.S. and Puerto Rico. Our extensive network allows us to help users of our discount card get a glaucoma medication discount at nearby pharmacies. This way, you don't have to travel far, saving you money on gas and travel costs as well as prescription medications.
Our participating pharmacies include:
Walgreens
With more than 8,253 locations nationwide, Walgreens is one of the largest and most well-known pharmacy chains in the United States. You may use your Inside Rx discount card at a Walgreens near you for glaucoma medications like latanoprost, bimatoprost, timolol and brimonidine.
Costco
Customers do not need a membership to this grocery store chain in order to access its pharmacies. Costco's pharmacies can be found across the country, making them a convenient choice. Glaucoma medications like travoprost, Rhopressa® and Iopidine® may be purchased at Costco Pharmacy with a valid prescription.
Rite Aid Pharmacy
You may be able to get a glaucoma medication discount if you use your Inside Rx card at a participating Rite Aid. The pharmacy chain has more than 2,148 locations. Before you visit one of them, check the Inside Rx website or mobile app for the best prices on your glaucoma medication, such as betaxolol, dorzolamide and tafluprost.
CVS Pharmacy
If you're looking to get a glaucoma medication discount, consider visiting a CVS Pharmacy near you. They have more than 8,000 locations. You can use your Inside Rx discount card to save more on pilocarpine and methazolamide as well as other medications prescribed to you.
While Inside Rx was designed to help people who pay out-of-pocket for costly prescription medication, it can be used by anyone. However, note that there are some restrictions on specific medications for those covered by government-funded programs like Medicaid and for users aged 65 or older. You can find the list on this page.
You can use just one Inside Rx card for your whole family. Plus, you can get an Inside Rx Pets card for your pets. If your cat, dog or other animal companion was prescribed a human medication, just follow the same process you would when you visit a pharmacy.
Where to Get an Inside Rx Medication Discount Card
You can download your Inside Rx card from our website at no cost. Alternatively, you may download our free mobile app. Then, just search for your prescription and start comparing prices at pharmacies in your area to find the one that gives the biggest glaucoma medication discount.
To learn more about Inside Rx, visit our FAQ page.
Sources: