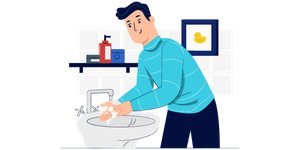 Women's Health
Discount Cards for Infections Medication: What to Look For
03/09/2023
When suffering from a bacterial infection, medication is key to getting better. Infections medications can help to clear up the infection and help with any pain you might have as a result from the infection. If you are looking to save on the cost of infections medications, prescription discount cards can help. Learn more about what to look for in a discount card, read below.
Taking prescription medication as directed by your physician is essential. This is especially true for infections medication, or drugs prescribed to treat bacterial and viral diseases.
If you have a bacterial infection and don't take your infections medication for the prescribed period, the remaining bacteria could multiply. Worse, they could become resistant to antibiotics.
Meanwhile, if you have a viral infection and don't complete your prescribed course of viral infections medication, the virus could reactivate. This could result in your condition becoming harder to treat.
If the cost of infections medication is something you're worried about, you'll be happy to know that there are many ways to save. One example is a prescription medication discount card, which you could easily get online—and often, for free.
What Is a Discount Card for Infections Medication?
Created to help people manage prescription medication costs, pharmacy discount cards help users find the lowest prices on prescription medications. These include medications typically prescribed for bacterial and viral infections.
A simple search for "prescription discount card" will provide you with an array of savings cards. However, it's important to choose the right one. Read on to learn how.
Choosing a Discount Card for Infections Medication: Factors to Consider
Medication Coverage
Some prescription discount cards can be used only for a specific type or brand of medication. Ideally, the one you choose should cover the kind of medications you are prescribed.
Eligibility
Organizations and companies that offer discount cards sometimes limit who can use them to save money on prescription medications. Other discount cards have strict requirements, such as having to be in a specific income bracket. Before you sign up for a prescription savings card, it's important to read the fine print on the provider's website to ensure you're eligible for discounts.
Cost
Most prescription discount cards are free. However, some providers charge a premium for "more savings" and perks like medication delivery.
Convenience
You shouldn't have to go through hoops in order to get a discount using your prescription savings card. Make sure the discount card you choose is secure and easy to use, with no lengthy sign-up processes or personal information required.
What if you go on vacation out-of-state or have to travel for work? For situations such as these, it's essential to choose a discount card that can be used at several pharmacies, not just the ones you typically get your infections medication from.
Get an Infections Medication Discount With the Help of Inside Rx
Inside Rx is a discount card program that helps consumers save money on brand and generic prescription medication. With it, you can save up to 80 percent off prescription medications, including antibiotics and antivirals, as long as you have a valid prescription.
The Inside Rx discount card's benefits include:
Free and Easy to Use – Simply download the card from the Inside Rx website and start saving immediately.
Covers Thousands of Medications – You can look up your medication easily using the "Search Prices" tool on the website or free mobile app.
Can Be Used by the Whole Family – There's no need to get cards for every member of your household. One Inside Rx discount card is all you need to discover discounts on all types of prescription medication. It can even help you save money on prescriptions for your pets!
Further, Inside Rx has an extensive network of over 60,000 participating pharmacies throughout the United States and Puerto Rico. These drugstores include:
Rite Aid
There are over 2,100 Rite Aid locations nationwide, so no matter where you are, you will always be able to use your Inside Rx discount card to save on infections medication. This includes antibiotics such as:
CVS Pharmacy
One of the most trusted pharmacy chains in the country, CVS Pharmacy has nearly 9,000 locations. CVS Pharmacies also offer vaccinations as well as other health and wellness services. You can use your Inside Rx discount card at a participating CVS Pharmacy to save not just on antibiotics but also antivirals, such as:
Safeway
Ordering your prescription is easy with Safeway. The retail pharmacy chain has more than 900 locations. Use your Inside Rx card at any of these for an infections medication discount on medications such as:
Peramivir (Rapivab®)
Baloxavir marboxil (Xofluza®)
Oxacillin
Walgreens
With nearly 9,000 locations in 50 states, Washington, D.C., Puerto Rico and the U.S. Virgin Islands, Walgreens is the largest pharmacy chain in the U.S.. You can easily find a Walgreens where you could use your Inside Rx card for an infections medication discount by using the Inside Rx pricing tool.
You may be able to get an infections medication discount on a wide range of prescription medications, such as:
Download the Inside Rx Discount Card Today
Try the Inside Rx card by downloading it directly from the website or downloading the Inside Rx app. For more information, feel free to visit our help page.
Sources: