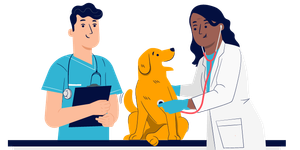 Pet Health
The Cost of Owning a Dog: By the Numbers
06/26/2020
While you're probably excited at the thought of welcoming a new addition to your family, you may want to understand the true costs of owning a dog.
Owning a dog can be one of the most rewarding and fulfilling experiences in life. Not only do you get love and companionship when owning a dog, but you're providing a dog with a nurturing, new home. Still, the responsibilities and cost of owning a dog shouldn't be overlooked. While you're probably excited at the thought of welcoming a new addition to your family, you may want to understand the true costs of owning a dog.
According to market data from the American Pet Products Association (APPA), Americans collectively spent $95.7 billion on their pets in 2019. Pet costs are rising each year, and they're expected to hit $99 billion by the end of 2020. These costs include those for food, supplies and veterinary care as well as miscellaneous services, such as grooming, training and pet sitting.
If you're financially savvy, you may already have the costs of owning a dog sorted out. However, costs can creep up unexpectedly, and you don't want to be left scrounging for every last penny in an emergency. Not to worry though, we're here to break down these expenses so you can have a better idea of what you're looking at.
What Is the Cost of Owning a Dog?
The upfront cost of owning a dog can range from around $1,471 to $2,008 in the first year, according to updated pet care costs from ASPCA. However, these costs can vary depending on the size of the dog. For instance, you may expect to pay $400 on food for a large dog versus $200 on food for a smaller dog.
These expenses can add up, especially in the first year. Vet visits can range from $50 to $250 dollars for your canine friend. If your dog becomes a frequent flier of the vet or experiences health problems, Inside Rx Pets may be able to help you save on medication. Inside Rx is a free prescription discount card that can help you save up to 80% on brand and generic prescription medications. But, they also provide discounts on human medications prescribed to pets. Simply download your Inside Rx Pets discount card, search your pets medication, and see if you can save up to 75% off at pharmacies near you. Saving on your medications can help out with other expenses such as food, training, crates or toys.
Initial Expenses
Your new pup will likely cost you the most in the first year. Initial expenses include necessities like veterinary care, equipment and basic supplies needed to care for a dog. Some apartments or complexes may charge a one-time pet deposit when bringing a dog into the home, and even charge an additional monthly fee to own a pet in your dwelling. Initial, one-time expenses may look like this:
Spaying/neutering: $190 to $220
Initial medical costs (deworming, microchip, etc.): $70
Carrier: $40 to $60
Crate: $35 to $125
Collar or leash: $25 to $35
Training class: $110
Dog license: $15
Annual Costs
On a year-to-year basis, you can expect to budget around $580 to $875 for your pup. Based on ASPCA figures, this budget should take care of food and bedding, among other essentials. Some annual costs may include:
Food: $212 to $400
Routine vet care (exams, vaccinations, etc.): $210 to $260
Toys or treats: $40 to $75
Health insurance: $225
Other Expenses
While the costs of owning a dog may seem predictable, it's important to be prepared for additional expenses. For example, your dog will likely need professional grooming to ensure the health of their coat or a safe place to stay if you go on vacation, and emergency vet trips are not uncommon. You'll also want to be aware of additional costs your dog may incur, such as travel fees or ongoing training expenses.
Professional grooming: $264 to $408
Vitamins: $58
Kennel boarding: $229
Travel fees: $75 to $200
Ongoing training: $254
Dog events: $457
Total Lifetime Costs
When you add up annual costs over the average lifespan of your dog, you'll get the total lifetime cost of owning a dog. For most dogs who live a long and happy life, the total lifetime costs can vary as follows:
Small dog: $15,051
Medium dog: $15,782
Large dog: $14,480
These lifetime costs are based on average life expectancies of 10 to 15 years, depending on the size and breed of the dog. While these expenses are based on average figures, you could be spending more if you're taking care of a special breed or really pampering your pup. In some instances, lifetime costs can add up to almost $90,000.
Ways to Save
While these costs may seem daunting, there are ways to save on some of these expenses. For example, instead of boarding your dog when traveling, having a friend or family member help take care of the dog will likely save you on boarding expenses. There are a number of subscriptions services for pets as well to save on food, toys or other necessary items.
Overall, while owning a dog is typically rewarding and fun, it can also be quite expensive even while keeping your spending in check. In order to give your dog a good life, it's important to keep these costs in mind before bringing home your new furry friend.