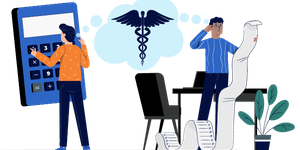 Prescription Savings
The Cost of Insulin: What Determines the Cost and How to Save
03/02/2021
Government regulation on drug prices has been heavily debated across the healthcare atmosphere. Drug prices seem to be reaching new heights every year. And, insulin prices are no exception. Before rebates or discounts, insulin costs make up approximately $48 billion, or 20 percent, of the direct costs for treating diabetes. Based on current trends, gross insulin costs are projected to reach $121 billion by 2024.
Diabetes is one of the most expensive chronic conditions to treat in the U.S. over a lifetime. With around 30 million Americans living with diabetes and almost 90 million Americans living with prediabetes, insulin may be a household necessity for many people. But what exactly is driving up the cost of insulin and are there ways to save on insulin? Read on to learn more about the cost of insulin.
What determines the cost of insulin?
The cost of insulin depends on the type of insulin and who it's manufactured by. Three major pharmaceutical companies control the majority of the pricing of insulin in the U.S. These companies include Sanofi, Eli Lilly, and Novo Nordisk. Many people might ask why manufacturers make insulin prices what they are, and the answer is because they can, quite simply.
Despite the growing need for insulin across the nation, insulin prices have largely remained high. These prices have come under scrutiny by the public and the government, leading to greater pressure and discussions to help patients afford their insulin. For example, Express Scripts began offering a $25 cap for monthly insulin for diabetic patients in the past couple of years.
Since 2019, manufacturers of insulin have come out with cheaper, generic versions of their brand names. This has led to a slight decrease in price for certain insulins. Novo Nordisk offers generic NovoLog (insulin aspart) and NovoLog Mix (insulin aspart mix) which are typically more than half off the brand-name price. In the same vein, Eli Lilly offers a generic insulin lispro injection, which is known by the brand name Humalog.
Insulin savings programs
Insulin savings are available in the form of savings cards, copay cards, and patience assistance programs. Generic versions of insulins are often much cheaper than the brand-name versions. However, companies like Novo Nordisk, Sanofi, Eli Lilly, and MannKind may offer patient assistance to eligible patients. You can contact the manufacturer directly to find out more information and get details on eligibility requirements.
Examples of insulin savings programs include:
Novo My$99Insulin
Novo Nordisk Patient Assistance Program
Sanofi Insulins Valyou Savings Program
Sanofi Patient Assistance Connection
Lilly Cares
Lilly Insulin Value Program
MannKind Direct Purchase Program
Inside Rx insulin savings Another way to save on insulin is to use a prescription savings card. Prescription savings cards may be able to offer a lower cost for insulin for those that are underinsured or uninsured. Inside Rx provides an easy-to-use search tool so you can find cheaper prices on insulin at over 60,000 pharmacies across the U.S.
You can download the free Inside Rx savings card to see if you can save money on insulin and oral diabetes medications, as well as medications for a variety of conditions. Most people who take advantage of Inside Rx savings find that they can save up to 80% on brand and generic prescriptions.
Insulin can be an expensive, but necessary prescription drug for those with type 1 or type 2 diabetes. Still, there are ways to combat the high cost of insulin. Talk to your doctor about using a generic insulin instead of a brand-name version. You can also talk to your insurance company to find out which insulins they may cover and at what cost. In addition to contacting the manufacturer for available patient assistance options, you can opt to use a free savings card, such as the one from Inside Rx.