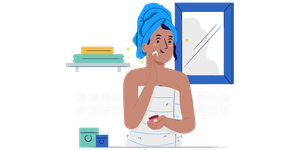 Skin Care Tips
Common Skin Conditions Medication: Everything You Need to Know
03/07/2023
Skin conditions affect millions of Americans. While some of them don't have a cure, most are treatable by medication. To learn more about skin conditions and common skin conditions medication, read on below.
The skin is the body's largest organ and serves many vital functions. It prevents dehydration, keeps out bacteria, stabilizes the body temperature and helps us feel sensations. Any disease or irregularity affecting this organ is a known as a skin condition or disease.
The Most Common Skin Conditions and Treatment
Skin conditions can affect everyone. In America, 1 in 4 people are affected by some skin disease, as reported by the American Academy of Dermatology Association. Learning one condition from another can help a patient establish a self-care routine and allow medical practitioners to diagnose faster.
Skin conditions medication varies widely since no two patients have identical symptoms. To develop a successful treatment plan, doctors will look into the condition's location, symptoms, duration, arrangement and morphology.
Here are the most common skin conditions with their usual medication:
Acne
Acne is an inflammatory skin condition that results from bacteria in clogged pores. It affects everyone at some point in their lifetime but is most common among teenagers undergoing hormonal changes. According to the American Academy of Dermatology Association, acne is the most common skin condition in the United States, affecting 50 million people yearly.
A dermatologist can diagnose acne by looking at the breakouts. To come up with an effective treatment, the doctor will look into the following considerations:
The type of acne
The patient's age
Where most of the breakouts appear
What treatments have the patient already tried
When the breakouts started
Acne treatments vary widely from person to person. However, they often include the following skin conditions medication:
Eczema
Eczema is another inflammatory skin condition that causes dry, itchy skin. It can occur at any age but is common in young children. According to the National Eczema Association, this condition affects over 31 million people in the United States.
There are seven types of eczema, namely:
Atopic dermatitis
Contact dermatitis
Dyshidrotic eczema
Nummular eczema
Seborrheic dermatitis
Stasis dermatitis
Many who have this skin condition often get "flare-ups'' when they experience severe itchiness leading to blisters and skin infections due to excessive scratching. Unfortunately, there is no permanent cure for eczema. The goal of the treatment is to reduce the symptoms and minimize flare-ups.
The usual prescriptions for this condition are the following:
Psoriasis
Psoriasis is an autoimmune skin disease that speeds up cells' growth, causing thick, scaly patches on the skin. Just like eczema, it is a chronic condition that has no cure. It is a common disease affecting over 7 million adults in the United States.
A skin conditions medication is prescribed to minimize symptoms and swelling of psoriasis. A healthcare provider might take a small skin sample to develop an effective treatment plan and rule out other disorders. The medication prescribed depends on how severe the psoriasis is and how responsive it is to previous treatment. Often, patients need to try different skin conditions medication before they find an approach that works.
Prescriptions for psoriasis typically include the following:
Rosacea
Rosacea is another long-term skin condition that mainly affects the face. It has a lot of symptoms, and dermatologists created four subtypes, each requiring a different treatment.
Subtype 1: Facial redness and visible blood vessels
Subtype 2: Acne-like breakouts
Subtype 3: Thickening skin
Subtype 4: In the eyes
There are no medical tests that can diagnose rosacea. Dermatologists will only need to examine the patient's face and ask several questions about the condition's history to rule out other illnesses. There is also no permanent cure, but treatment can reduce signs of rosacea on the skin and ease discomfort.
Rosacea medication often includes:
Melanoma
Melanoma is the most severe type of skin cancer that is widely believed to be linked to prolonged exposure to ultraviolet (UV) radiation from sunlight. Cancer develops when the cells that give the skin pigment start to grow out of control.
Treating melanoma typically involves surgery to remove the affected area, radiation therapy, chemotherapy and medication such as:
| Generic Name | Brand Name |
| --- | --- |
| Atezolizumab | Tecentriq® |
| Cobimetinib | Cotellic R® |
| Ipilimumab | Yervoy® |
| Nivolumab | Opdivo® |
| Nivolumab-relatlimab-rmbw | Opdualag® |
| Pembrolizumab | Keytruda® |
| Vemurafenib | Zelboraf® |
Get Healthy Discounts for Skin Conditions Medication
Most symptoms of skin conditions can be managed through appropriate medication. The best way to manage them is to keep a rigid self-care routine and take prescribed medications as scheduled. If you want to reduce out-of-the-pocket costs for any prescription drugs, Inside Rx can help.
With an Inside Rx discount card, you can potentially get up to 80 percent off on brand and generic skin conditions medication. We partner with over 60,000 pharmacies in the United States and Puerto Rico so that you can purchase your medication at lower rates. Get an Inside Rx card today for free to start saving!
Sources: