Asthma and Allergies
Choosing the Best Medication for Asthma
03/06/2023
Asthma is a chronic condition that millions of Americans suffer from. While there is no cure, it can be managed with medication. There are, however, a wide variety of medications that can be prescribed for asthma.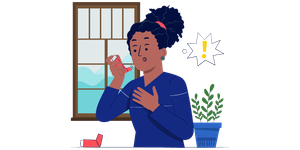 According to the Centers for Disease Control and Prevention (CDC), approximately 26.5 million people in the U.S. have asthma, of this number, 20.4 million are adults, and the rest are children.
Although asthma doesn't have a cure, it can be managed. There are many medications that can help reduce the severity and frequency of symptoms as well as prevent asthma attacks.
In this article, we dive into asthma medication types and what factors your doctor likely considers when identifying the best medication for asthma to prescribe you.
Choosing the Best Medication for Asthma: Asthma Severity Classification
In a person with asthma, the airways in the lungs sometimes narrow and become inflamed, making breathing difficult. Triggers, like exercise, pollen, dust, and pet dander, can set off or worsen symptoms such as wheezing, coughing, and shortness of breath. Treatment for asthma involves:
Prevention of future flare-ups.
Long-term control of the disease.
Quick relief during an asthma attack.
Asthma is classified by severity. Identifying the severity of your condition helps your doctor come up with the best medication for asthma.
The following are the four levels of asthma:
| Asthma Level | Symptom Frequency |
| --- | --- |
| Mild Intermittent | Up to two days a week, Nighttime symptoms for fewer than two nights a month |
| Mild Persistent | More than two times a week but not more than once a day, Nighttime symptoms for more than two nights a month |
| Moderate Persistent | Symptoms everyday, Nighttime symptoms more than once a week |
| Severe Persistent | Constant symptoms, most days and nights of the week |
The Best Medication for Asthma: Quick-Relief and Long-Term Treatments
Your asthma treatment or action plan will likely include one or more types of asthma medication: quick-relief medications (QRMs) and long-term medications. If your asthma is triggered by allergies, you may also be prescribed allergy medications.
Quick-Relief Medications (QRMs)
Also called "rescue" medications, QRMs are typically delivered via inhaler (also called a bronchodilator) to widen swollen airways and make breathing easier. These are generally used during an asthma attack. However, if you have exercise-induced asthma (EIA), your doctor may recommend taking it just before you perform a strenuous activity.
Short-Acting Beta Agonists (SABAs)
This type of asthma medication is typically prescribed to relieve asthma symptoms and prevent EIA quickly. SABAs do not reduce inflammation. Instead, they work by relaxing the muscles of the bronchial tubes that carry air to the lungs in as fast as five minutes.
SABAs can ease asthma symptoms for as long as six hours. They are available in pill, inhaled, liquid and injectable forms.
The following are some commonly prescribed SABAs:
*Generic only
Systemic Corticosteroids
These reduce inflammation in the airways and the amount of mucus produced by the bronchial tubes. This makes it easier for you to breathe.
Systemic corticosteroids can be administered by mouth, in pill or liquid form, or via injection to provide fast relief from asthma symptoms during a moderate or severe flare-up. It is also sometimes prescribed to patients who are beginning long-term treatment of asthma.
The following are some examples:
Short-acting Anticholinergics
These are a type of bronchodilator often prescribed if the patient cannot take SABAs due to side effects. They work by blocking the parasympathetic nerve reflexes or muscle spasms that cause the airways to constrict. Short-acting anticholinergics may also reduce mucus production.
One example of a short-acting anticholinergic is ipratropium. It is available in generic form and under the following brand names:
Long-Term Medications
Also referred to as "controller medicines," this type of asthma medication is a crucial part of your treatment plan. Long-term medications are meant to be taken regularly to prevent asthma attacks and control chronic symptoms.
Leukotriene Receptor Antagonists (LTRAs)
During an asthma attack, your body's mast cells release several substances. These include inflammatory molecules called leukotrienes that cause airways to tighten and narrow. LTRAs work by blocking the action of these molecules.
The following are some examples of LTRAs.
Inhaled Corticosteroids
These are considered one of the most effective long-term treatments for asthma. They reduce inflammation in the airways and prevent muscle spasms that can cause them to constrict.
Combination Inhalers
A combination inhaler includes two kinds of asthma medication: a long-acting bronchodilator/reliever and an inhaled corticosteroid preventer. The following are some examples.
Theophylline
While not as frequently prescribed as other types of asthma medicine, this bronchodilator is still helpful for addressing mild asthma symptoms, especially those that occur at night. Theophylline (Elixophyllin®, Uniphyl®, Theobid®) works by relaxing the airways in the lungs and minimizing the impact of irritants on the lungs.
Other Types of Asthma Medication
Depending on your treatment goals, age, symptoms, medication side effects, and the severity of your asthma, your doctor may prescribe you other types of asthma medication. These include:
Allergy medications, if allergens trigger your asthma.
Biologics to address underlying causes of inflammation and manage severe asthma.
Long-acting beta agonists (LABAs) for controlling moderate to severe asthma.
Long-acting muscarinic antagonists (LAMAs), if a LABA cannot be prescribed.
Your doctor may also consider costs when identifying the best medication for asthma to prescribe. Also, they may prescribe more affordable, generic options if you are concerned about out-of-pocket medication expenses. To save more, you can also try using a prescription medication discount card.
Save On Asthma Medication Using Inside Rx
Inside Rx is a discount card that may help you save up to 80 percent off the retail price of your prescription medication. It's completely free to download and use.
Inside Rx can be used to get discounts at more than 60,000 participating pharmacies in the U.S. and Puerto Rico. To get started, simply:
Visit the Inside Rx website
Download your free Inside Rx card
Enter the name of your asthma medication or another prescription medication
Input your location by zip code
Compare prices at nearby pharmacies
Then, order your prescription and show your Inside Rx card to the pharmacist when you come and pick it up to save. That's it! You can reuse your Inside Rx card as it has no expiration date or limits.
Download the Inside Rx card today, or visit our help page for more information.
Sources: