Prescription Savings
Are Prescription Discount Cards Legitimate?
06/08/2020
Nowadays, different prescription discount card companies are popping up left and right. It's easy to get overwhelmed with what is being offered and what it actually means for you. One of the most common questions we see is…Are prescription discount cards legitimate? We are here to answer that for you.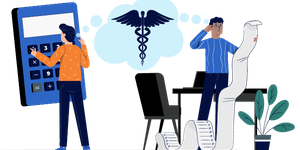 Programs like Inside Rx offer a legitimate alternative for saving money on prescriptions for which you pay 100% out of pocket.
Prescription discount cards are designed to provide consumers with great discounts on medications. But the marketplace is flooded with discount cards, so how do you know if these prescription discount cards are legitimate and if they offer value? How do prescription discount cards work to save you so much money? Here are some insights on how discount cards work and how you can determine which prescription discount cards may be best for you.
One in four American adults currently taking medications find it difficult to afford prescription drugs, according to the Peterson-Kaiser Health System Tracker Study. For those who are underinsured or uninsured, prescription discount cards often provide a valuable option to help lower the cost of prescription medications. Sometimes insured consumers use discount cards for drugs their plan does not cover, such as medications for weight loss, erectile dysfunction and certain skin conditions. With several similar pharmacy discount cards available, it's important to understand which cards provide the best value and how they work.
How Prescription Discount Cards Work
Prescription discount cards can be a legitimate way to save on prescriptions. These cards are typically offered by companies who negotiate with participating pharmacies and pharmaceutical manufacturers to provide discounts on prescription drugs for people who self-pay (100% out-of-pocket) for medications. These cards can offer discounts on many medications, including generics and brands. Some offer discounts on human crossover medications used by household pets. Inside Rx is a discount card program that provides discounts on thousands of medications for people and pets, including material discounts on over 190 brand medications. A separate card is used for pet discounts, called InsideRx Pets. For a select list of brand medications, Inside Rx works directly with pharmaceutical manufacturers who are committed to increasing access to affordable medications for people. These include discounts on drugs used to treat common conditions such as diabetes, heart disease, skin conditions, weight loss, and more.
Prescription discount cards are not health insurance and generally cannot be combined with insurance. Programs like Inside Rx offer a legitimate alternative for saving money on prescriptions for which you pay 100% out of pocket. Inside Rx, for example, has offered its users an average savings of 70% off the retail price on brand and generic drugs and is accepted at over 60,000 participating pharmacies in the U.S. and Puerto Rico.
Buyer Beware
For good measure, you can check the legitimacy and value to you of a prescription drug discount card by researching each program's website. Search for:
Easy pricing tools. The range of medications for which the program provides discounts. Check the prices of brand as well as generic medications.
The number of pharmacies that accept the card. See which pharmacies near you accept the card.
The offered discount amount compared to other cards. Be sure to comparison shop.
Restrictions on usage of the card.
Fees and enrollment requirements. Some programs may require personal information.
Before enrolling, you may want to understand how your information will be used.
Customer service support. Does the program offer a help desk for questions?
Card programs vs. coupons. Is the card reusable? Or is it a coupon that can be used only one time?
Although there are no fees involved with using an Inside Rx discount card, some programs, such as those available through chain pharmacies, may require enrollment and charge an annual fee. Other card programs are free only with a membership to a certain organization. Decide for yourself if it's worth paying a membership or annual fee for access to a drug discount card.
The Inside Rx Advantage
As a wholly owned subsidiary of Express Scripts, one of the largest pharmacy benefit managers in the country, Inside Rx leverages the power of Express Scripts to negotiate discounts with pharmaceutical manufacturers and retail pharmacies to secure the best deals possible on prescription drugs. With our easy-to-use search tool, you can easily find and compare prices on the prescriptions you need. Whether you're insured, underinsured or uninsured, see if you can utilize a prescription discount card to save money on your prescriptions. (Some restrictions apply, so please see our terms. If you have insurance, check to see if your insurance benefit could provide greater savings than the Inside Rx card.)
Insiderx.com lets consumers search for discounts for the entire family at over 60,000 pharmacies in the U.S. and Puerto Rico. Content is available in English and Spanish
Inside Rx Pets also helps consumers with pets find discounts on thousands of brand name and generic human crossover medications used to treat infections, diabetes, anxiety, depression, asthma and more
Mobile app available on the Apple Store and on Google Play
Inside Rx discount cards are free to use, require no registration, and are reusable.
Responsive customer service support via email and by phone, 7 days a week, 8:00AM - 9:00PM EST
*Savings based on all Inside Rx users, as compared to cash prices; average savings rates for generics are 78%; 37% for featured brand medications. See Discount Restrictions.