This medication is applied to teeth to prevent cavities. Fluoride is a mineral that works by making the teeth stronger and more resistant to decay caus
ed by acid and bacteria.Do not use this medication in children younger than 6 years unless directed to do so by your doctor/dentist.
...
View More Info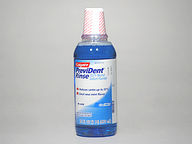 Save up to 80% on brand & generic medications.