This medication is used to treat migraines. It helps to relieve headaches, pain and other symptoms of migraines, including sensitivity to light/sound,
nausea, and vomiting. Prompt treatment allows you to get back to your normal routine and may decrease your need for other pain medications
...
View More Info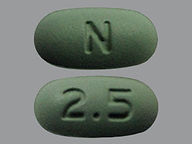 Save up to 80% on brand & generic medications.