Meclofenamate is a nonsteroidal anti-inflammatory drug (NSAID). Meclofenamate works by reducing hormones that cause inflammation and pain in the body.
Meclofenamate is used to treat fever or mild to moderate pain in adults. Meclofenamate is also used to relieve symptoms of osteoarthritis
...
View More Info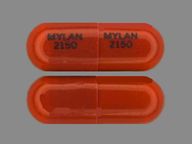 Save up to 80% on brand & generic medications.