See also Warning section.Etodolac is used to relieve pain from various conditions. It also reduces pain, swelling, and joint stiffness from arthritis.
This medication is known as a nonsteroidal anti-inflammatory drug (NSAID). It works by blocking your body's production of certain natural
...
View More Info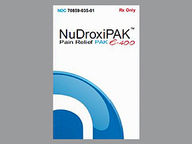 Save up to 80% on brand & generic prescription medications.