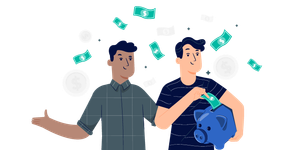 Prescription Savings
Prescription Assistance Programs, Copay Cards and Rx Cards: Getting Help With Medication Costs
03/17/2023
If you are looking to save money on prescription medication costs, there are three things to look into: prescription assistance programs, copay cards and Rx cards. We've put together what you need to know about each to determine the best way for you to save. Read on to learn more.
For many people with health conditions, medication is an essential part of treatment. Unfortunately, the high cost makes it difficult for as many as 18 million Americans to take their prescribed medications.
A survey by West Health and Gallup found that about 7% of U.S. adults cannot afford their prescription medication. Approximately 10% of respondents said they skipped doses to save money.
While Americans with private health insurance, Medicaid, or Medicare are protected against the cost of prescription medication, not everyone has sufficient coverage. What's more, people without insurance or who are underinsured have to pay for their medication out of pocket.
The U.S. government is working to address rising drug prices. In the meantime, a few options are available to lessen prescription medication's economic burden. These are patient assistance programs (PAP), manufacturer co-pay cards, and Rx cards. While these three options all help offset the cost of prescription medication, they have differences in terms of eligibility, coverage, and use.
This article answers some of the most frequently asked questions about all three. By researching your options, you will be more equipped to make the best decision for your situation.
What Are Prescription Assistance Programs?
Prescription assistance programs, or PAPs, were developed by pharmaceutical companies. The goal of PAPs is to help people who do not have insurance or do not have prescription drug coverage through their insurance get the medications they need.
Depending on the prescription assistance program you choose, you may be able to get your medication at no cost or at a discount.
The following are some pharmaceutical companies that offer PAPs:
Apart from pharmaceutical companies, other organizations like nonprofits as well as the federal and state government, offer some form of prescription assistance.
Some examples of PAPs by nonprofits are:
Federal and state PAPs include:
Am I Eligible for Prescription Assistance?
Eligibility requirements differ from program to program. You'll need to visit the provider's website or reach out to their helplines to learn whether you qualify. Generally, however, most programs require that the person applying:
Has proof they are a citizen of or reside in the United States
Has inadequate or no prescription drug coverage from either private or public sources
Can provide proof that they have a financial need for assistance, such as income tax returns and bank statements.
Can I Get Prescription Assistance If I Have Insurance?
It depends on the provider and the program. Some providers will consider a patient eligible for a PAP only if they have no health insurance. Others extend eligibility to those with health insurance but without prescription drug coverage.
If you have Medicare, you might be able to enroll in a PAP, but it must operate outside Part D. Keep in mind that some PAPs may deny patients who would otherwise be eligible for prescription assistance if they qualify for any government-sponsored PAP, even if they aren't enrolled.
What Is a Copay Card?
This is another option for those who need help affording their prescriptions. Copay cards, also called copay coupons, are designed specifically for people who are privately insured but struggle to cover their prescription drug co-payments.
Copay card programs are typically provided by pharmaceutical manufacturers. Additionally, they are often meant for patients who are prescribed expensive name-brand medications that do not have generic versions. Unlike PAPs, copay cards are not usually need-based.
Some examples of copay card programs are:
How Do Copay Cards Work?
Copay cards cover all or some of the difference between your insurance copay and the coupon price. Simply put, your insurance pays for some of the cost of your medication. Meanwhile, the manufacturer covers part or all of the cost you would normally pay through your co-pay. Keep in mind that if your copay is the same or lower than the price indicated on the coupon, you won't benefit from a copay card.
Copay cards typically have an expiration date, a maximum savings amount, or a limit to the number of times they can be used. Depending on the coupon card program and your insurance provider, the amount covered by the copay card may count toward your deductible.
Am I Eligible to Use a Copay Card?
Requirements vary depending on the provider, but generally, to qualify for a copay card, you must have private or commercial insurance. Individuals with public or government-sponsored insurance, like Medicare and Medicaid, cannot use copay cards.
What Are Rx Cards?
Rx cards or prescription discount cards are programs designed to help lower medication costs for people who pay out-of-pocket for their prescriptions. They are offered by pharmacies, nonprofit organizations, and independent benefit companies.
Rx cards are typically free to use, and unlike copay cards and prescription assistance programs, they do not have strict eligibility requirements. They can be used by individuals with or without public or private insurance.
Some, like Inside Rx cards, do not require registration. Getting a discount on prescription medication can be as simple as downloading an Rx card from the provider's website and showing it to a pharmacist. If the discounted price is lower than the copay, then you'll be saving money.
Using Rx cards is a simple, effective way for individuals needing prescription assistance to get the medication they need at a lower cost.
How Much Can I Save With Rx Cards?
It depends on the discount card you choose. For instance, with Inside Rx cards, you can save up to 80 percent off the retail price of prescription medication, whether name-brand or generic. However, remember that if you have prescription drug coverage, the amount you pay does not count toward your deductible.
Start Saving on Out-of-Pocket Prescription Costs with Inside Rx
Inside Rx cards are free to download and use. They're also reusable, and they have no expiration date. There's also no need to get multiple Inside Rx cards for your entire household: You can use the same discount card for each prescription purchase.
Learn more about Inside Rx here.
Sources: